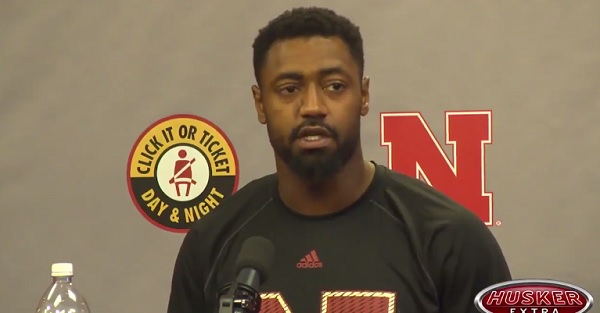 Twitter/Screenshot
**Warning: Quotes include potentially offensive language**
Before Nebraska game last Saturday at Northwestern, three Cornhusker players — Michael Rose-Ivey, Mohamed Barry, and DaiShon Neal — kneeled during the national anthem as a form of protest.
Like Colin Kaepernick before them, the three Nebraska players didn't get through their protest without the public showing disdain for their actions. Rose-Ivey shed some light on the comments he received, which included threats that he should be "lynched or shot".
"I was still referred to on Facebook and Twitter as a 'clueless, confused nigger' by former high school classmates, friends, peers, and even Huskers fans. Some believe DaiShon, Mohamed, and myself should be kicked off the team or suspended, while some say we deserve to be lynched or shot, just like the other black people that have died recently. Another believed that since we didn?t want to stand for anthem, that we should be hung before the anthem before the next game."
RELATED: Saints-Falcons gave us the best response to national anthem protests yet
The comments that Rose-Ivey received are utterly ridiculous. It's well within his right to protest the anthem, and it is well within people's rights to disagree with the players. However, this isn't disagreement; these are threats against a 20-something year old kids just because they took a knee.
If anything, these people proved that Rose-Ivey and everyone has a point with these protests. Telling the players they should be lynched? Are you kidding? We should be better than that.
[H/T Business Insider]