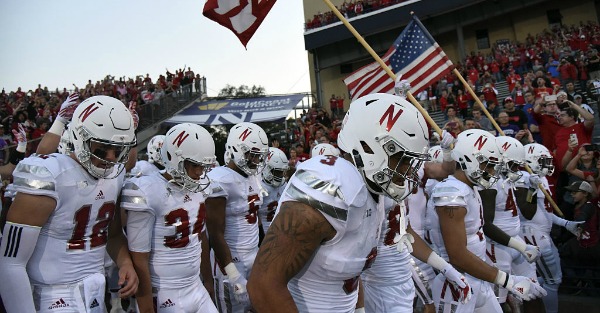 David Banks/Getty Images
EVANSTON, IL- SEPTEMBER 24: during the first half on September 24, 2016 at Ryan Field in Evanston, Illinois. (Photo by David Banks/Getty Images) *** Local Caption ***
Three University of Nebraska football players who chose to kneel during the national anthem recently are being backed by the school president, despite heavy opposition this week.
According to the Lincoln Journal Star, University president Hank Bounds said Tuesday that when Michael Rose-Ivey, DaiShon Neal, and Mohamed Barry took a knee while the anthem played before the Cornhuskers' game at Northwestern last Saturday, they were well within their right to express themselves and he "completely opposes" their being reprimanded.
Head coach Mike Riley is also standing by his players, saying they had every right to express themselves that way.
"It's kind of like the reaction that I had in answer to what I thought about our players," Riley said. "And it's everybody's right to have an opinion. And that's what makes America what it is,"
But the act has drawn the ire of some in the Lincoln community, with one powerful voice saying players should be kicked off the team.
"[Student-athletes] are not supposed to do things that create disparagement or negative implications," said former Lincoln mayor and university Regent Hal Daub, adding that the act demonstrated poor judgement and offensive behavior. "They don't have to play football for the university either. They know better, and they had better be kicked off the team. They won't take the risk to exhibit their free speech in a way that places their circumstance in jeopardy, so let them get out of uniform and do their protesting on somebody else's nickel."
RELATED: Nebraska player reads threats he received after national anthem protest
On his radio show Monday, Nebraska Governor Pete Ricketts weighed in after numerous callers suggested the players lose their scholarships. Ricketts called the protest "disgraceful and disrespectful," but at the same time said he respected the rights of the players to demonstrate.
Another university Regent, Ron Shafer said, "Nebraska athletics are a unifying source of pride for our state that should not be used as a forum for political or social debate."
In response to the backlash, one of the players, Rose-Ivey, contacted the Governor via Twitter to set up a meeting, which the two have reportedly planned for the near future.