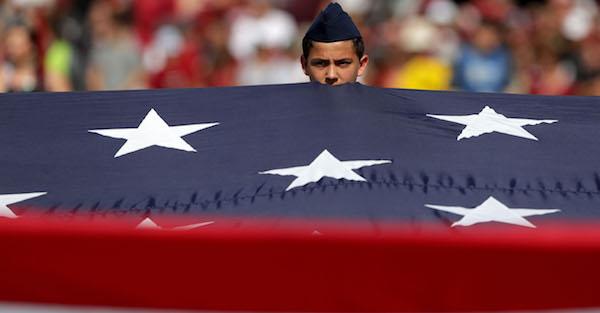 Streeter Lecka/Getty Images
COLUMBIA, SC - SEPTEMBER 23: The American Flag is held during the National Anthem before the game between the Louisiana Tech Bulldogs and South Carolina Gamecocks at Williams-Brice Stadium on September 23, 2017 in Columbia, South Carolina. (Photo by Streeter Lecka/Getty Images)
Protests during the national anthem have occurred almost exclusively during NFL games, but five players from one college team decided to take a knee during the anthem on Saturday.
New Mexico was hosting Air Force, and a weather delay moved the national anthem to halftime. As a result, the players for both teams were on the field for the anthem. Usually, college teams are in the locker room when the anthem is played, so they don't even have the option of protesting.
Linebacker Kimmie Carson, safety Michael Sewell, cornerback Elijah Lilly, defensive end Garrett Hughes and safety Stanley Barnwell all decided to kneel during the playing of the anthem.
New Mexico coach Bob Davie said he was surprised his players took a knee, and he wanted to discuss the issue with them so they could take a unified approach according to the Albuquerque Journal.
"I'd like to have the opportunity to visit with our players, talk about what our stance would be, unified as a football team," Davie said. "I kind of got shocked by that. I wouldn't want to judge or have too much of a critique, at least speaking from my standpoint, as far as a total football team. Because in fairness to them, I never really talked to them about it."
Air Force coach Troy Calhoun said those players had the right to kneel, though none of his players took a knee.
It would be intriguing to see how many college players took a knee during the anthem if they were on the field. Since they're not, it's not going to be much of an issue in the sport.
(h/t College Football Talk)