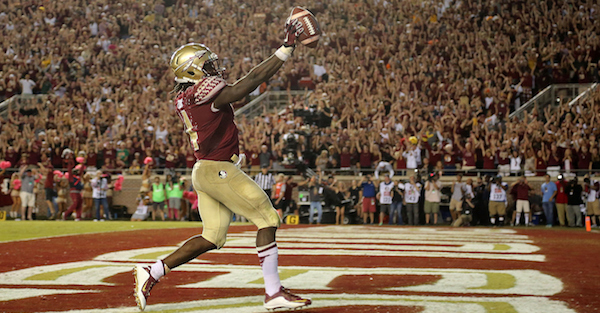 Mike Ehrmann/Getty Images
TALLAHASSEE, FL - OCTOBER 10: Dalvin Cook #4 of the Florida State Seminoles rushes for a touchdown during a game against the Miami Hurricanes at Doak Campbell Stadium on October 10, 2015 in Tallahassee, Florida. (Photo by Mike Ehrmann/Getty Images)
Florida State?s Dalvin Cook is one of the most talented running backs in the country entering 2016. The Heisman candidate rushed for 1,691 yards and 19 touchdowns last season. Given that he is a junior this season, he is expected to declare for the 2017 NFL Draft after his junior year is complete, as many other talented running backs do nowadays.
Given that this could be the last we see of Cook in a collegiate uniform, the comparisons have already starting rolling in about which NFL back Cook compares to most. SB Nation NFL Draft analyst Matt Miller just made a very bold comparison in saying that Cook could even be better than future Hall of Fame running back Reggie Bush.
Cook said earlier this week that he models his running game after Kansas City Chiefs running back Jamaal Charles. If Cook ends up having a career close to either of these guys, it will quite a successful one.