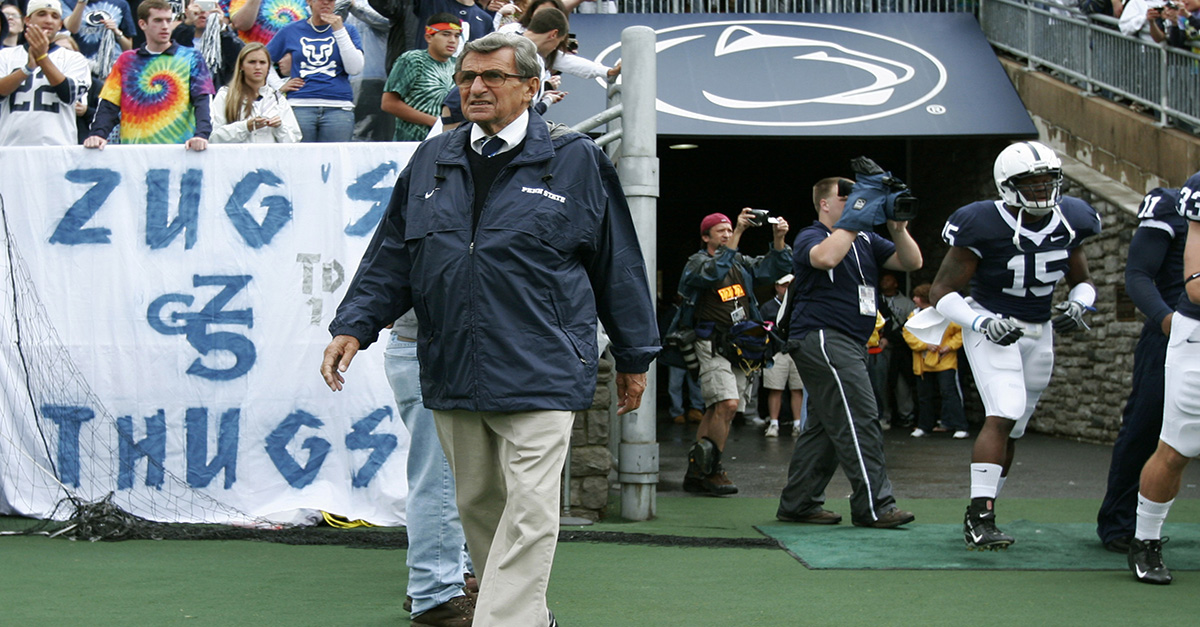 Chris Gardner/Getty Images
Photo by Chris Gardner/Getty Images
Back in 2006, Penn State coach Joe Paterno had his leg broken as a tackle attempt spilled over onto the sideline.
The player that broke his leg has no sympathy at all for that moment. In fact, he says it's the proudest moment of his college career. In an interview with Men's Journal, Detroit Lions linebacker DeAndre Levy calls out the "dirtbag" Paterno as he recalls the incident from a decade ago.
Ten years later, Levy now calls that incident ?my proudest moment in college,? as history has since revealed Happy Valley?s sad secrets. ?That dirtbag, man,? says Levy of Paterno, who was recently implicated as being aware of child sexual abuse committed by his assistant Jerry Sandusky as early as 1976. ?We?ve gotta stop prioritizing sports over humanity,? says Levy. ?Just because somebody can throw a football or coach football, they?re excluded from their wicked acts.?
This is definitely a unique take, as you usually don't see someone talking up about how they broke the leg of an 80-year old man — who has since passed — in a football game. However, with all of the stuff that has emerged on Paterno, Jerry Sandusky, and the Penn State sexual assault scandal, it's not too surprising that some people have no remorse for negative things that happened to Paterno in the past.
[H/T The Big Lead]