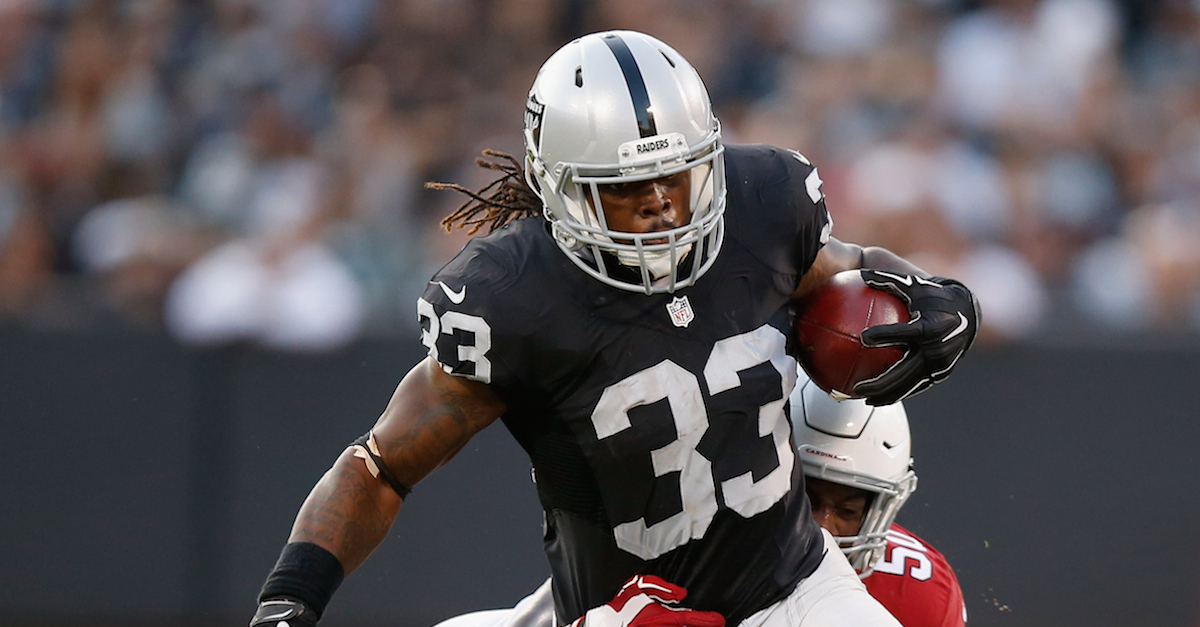 OAKLAND, CA - AUGUST 30: Trent Richardson #33 of the Oakland Raiders is tackled by Gabe Martin #50 of the Arizona Cardinals at O.co Coliseum on August 30, 2015 in Oakland, California. (Photo by Ezra Shaw/Getty Images)
Former first-round draft pick Trent Richardson isn't done in the NFL just yet. On Tuesday morning, it was reported that Richardson has an "unofficial agreement" with the Baltimore Ravens and head coach John Harbaugh. Harbaugh, according to the Ravens' official website, said during NFL owners' meetings that he is anticipating signing Richardson eventually.
"I'm planning on Trent being a Raven right now," Harbaugh told reporters at the NFL owners meetings in Florida via Ravens.com. "We have an unofficial agreement with Trent. Hopefully, no one will come in and swoop him away from us."
In February, it was reported that Richardson was expected to sign with the Ravens if he passed a physical, so it sounds like there were some concerns on how good of shape he was in. Richardson is arguably one of the biggest disappointments in the NFL, in terms of how high his ceiling was projected to be coming out of college. He was drafted by Cleveland as the third overall pick in the 2012 NFL Draft out of the University of Alabama, and he has the second-worst yards-per-attempt average among running running backs with at least 500 carries.
There's also this video that probably showcases best why he's such a bust in the league.
At Alabama, Richardson rushed for 784 yards and 8 touchdowns during the Tide's 2009 National Championship season, during which he backed up Heisman-winner Mark Ingram. Richardson was also a Heisman finalist in 2011. As a rookie in Cleveland, he rushed for 950 yards and 11 touchdowns in 2012. He was traded to the Indianapolis Colts in 2013 and averaged just 3.1 yards per carry in two seasons there before being waived.
Richardson spent last season not on any NFL team — he signed a two-year contract with the Oakland Raiders in March 2015, but missed some of training camp due to illness. He was ultimately released before the start of the 2015 season.