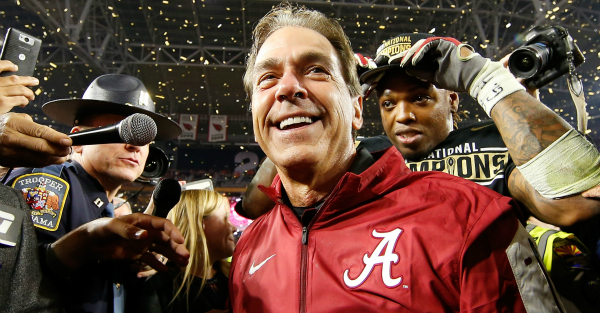 It's no secret that there are a ton of highly paid coaches inside the SEC. Alabama head coach Nick Saban checks in highest, with his $7.09 million a year salary. Texas A&M's Kevin Sumlin makes $5 million annually as well. There are a number of head coaches who received raises during the offseason, making the overall conference payout a lot higher — Tennessee head coach Butch Jones received a raise to get him over to the $4.1 million annually mark, and Florida's Jim McElwain earned a raise earlier this month to give him $4.25 million a year — the highest SEC East salary.
According to new data acquired from CoachingSearch.com, the SEC's head coaches make more money than most other conferences. The SEC leads all Power Five conferences with a whopping nine of its 14 head coaches scheduled to make $4 million in 2016.
Check out the full list of SEC coaching salaries below.
Nick Saban, Alabama: $7.09 million
Kevin Sumlin, Texas A&M: $5 million
Hugh Freeze, Ole Miss: $4.7 million
Les Miles, LSU: $4.39 million
Gus Malzahn, Auburn: $4.35 million
Jim McElwain, Florida: $4.25 million
Butch Jones, Tennessee: $4.13 million
Bret Bielema, Arkansas: $4.06 million
Dan Mullen, Miss. State: $4 million
Kirby Smart, Georgia: $3.75 million
Mark Stoops, Kentucky: $3.5 million
Will Muschamp, South Carolina: $3.0 million
Barry Odom, Missouri: $2.35 million
[H/T: Atlanta Journal-Constitution]