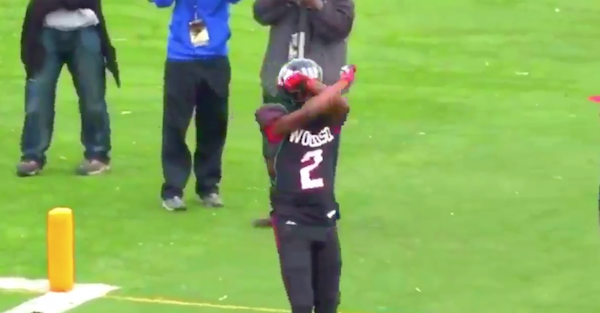 Twitter Screen Shot/Hudl
Four-star cornerback Noah Boykin had offers from Georgia, Oklahoma and Michigan, but he decided to commit to Maryland in what he called the "one of the hardest decisions" he will ever have to make.
Boykin, who is from Washington D.C., announced his decision on Twitter. He's going to Maryland.
Related: Promising 4-star early enrollee retiring from football before he even takes a snap for Michigan
"In life you have to take chances and make smart decisions," Boykin said. "That is what makes me a competitive player. Being a D.C. public high school student, no one really expected me and my teammates to accomplish what we did so far and in the end we stayed true, never letting the politics or criticism get in our heads.
"I would like to first thank God for blessing me with this opportunity, my Pops for staying behind me and putting me in the best position to learn the game and become successful, and my Grandmother for believing in me and continuously feeding me the word of God as I played this game with passion. All of my coaches that helped my game since I was little and all my teammates, friends and family that pushed me to be not just a better player but a better person."
Boykin is joining fellow Woodson High School teammate and cornerback Vincent Flythe at Maryland. Flythe is a three-star according to 247Sports, while Boykin is now a four-star.
The 6'2, 170-pound Boykin, a class of 2018 recruit, is the No. 27 CB and No. 2 player from Washington D.C. on 247Sports.