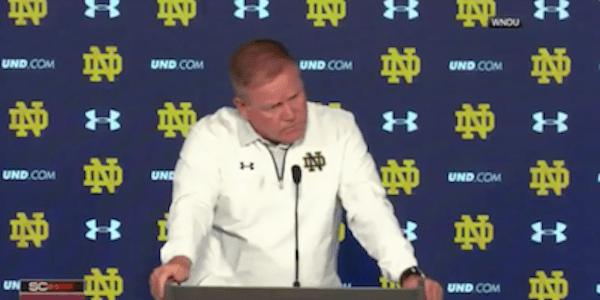 @cjzero/Twitter
cjzero/Twitter
This just in — Brian Kelly is in no mood for your criticism.
Coming off a 20-19 loss to Georgia at home, the Notre Dame coach got testy with a reporter during his postgame press conference.
The reporter attempted to ask Kelly about preventing his loss from "snowballing" into a losing streak, as was the case last season when the Fighting Irish suffered consecutive losses three times and finished with a 4-8 overall record.
Here's video footage of the altercation:
Man, that was awkward.
From the "what's the question" right down to the sarcastic tone of the "okay, thanks" at the end, you can tell Kelly is in no mood to answer any criticism of himself or his team coming off a one-point loss.
Perhaps he'll be in a better mood next week after Notre Dame travels to Boston College for its Week 3 matchup.