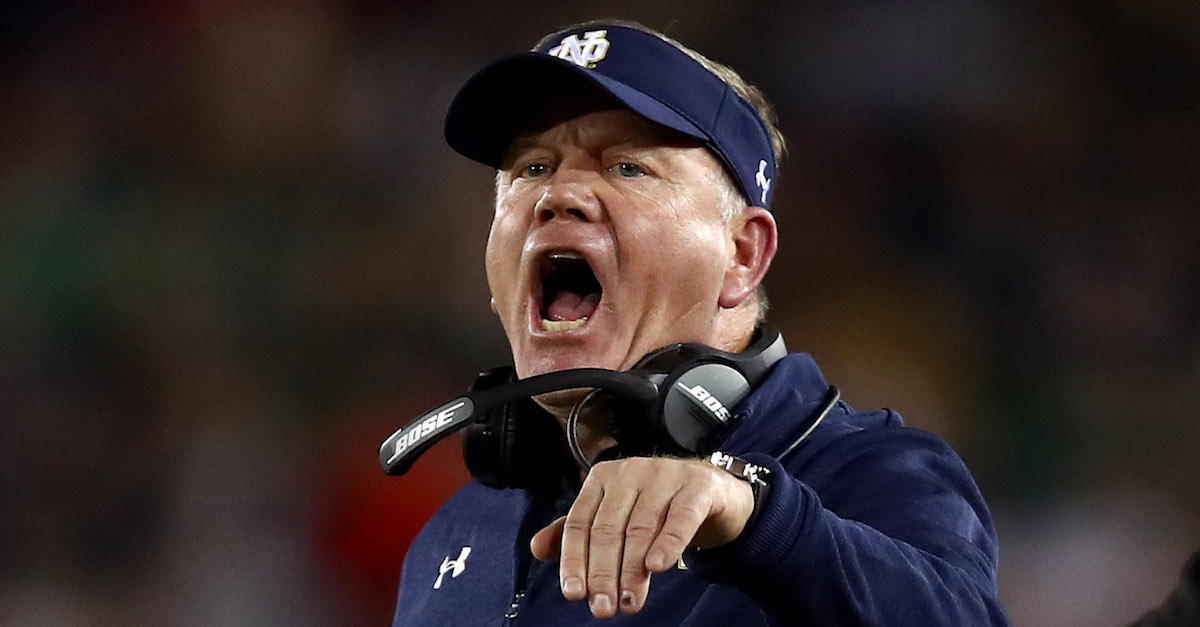 Ezra Shaw/Getty Images
PALO ALTO, CA - NOVEMBER 25: Head coach Brian Kelly of the Notre Dame Fighting Irish complains about a call during their game against the Stanford Cardinal at Stanford Stadium on November 25, 2017 in Palo Alto, California. (Photo by Ezra Shaw/Getty Images)
Notre Dame was 9-3 this season, and had no shot at the College Football Playoff when the committee was selecting teams on Dec. 3. However, Notre Dame was once No. 3 in the Playoff rankings before they suffered two losses in November, and head coach Brian Kelly said on Saturday that the school may look at their schedule in the future to try and prevent such losses.
Via ESPN:
"We didn't have that breather game the week before one of our rivals," Kelly told ESPN. "There's some other conferences that have it built in, and they do it for a reason, and it works out well for them. That's really an institutional decision, and we're going to have to sit down, we're going to have to look at it hard. We thought the 13th [data] point was really important, right? But that doesn't seem to be that important anymore.

"It seems like the goal posts shift and move a little bit as it comes to how you get in, and this schedule is really, really difficult."
Notre Dame has a five-game annual agreement with the ACC, but outside of that, the Fighting Irish have large control over their remaining games. The school has chosen in most year to fill those spots with some of their long-standing rivalries, meaning that Notre Dame can sometimes have a very difficult schedule.
Add a game such as Georgia — like Notre Dame did this season — and that schedule can be even more difficult.
Would it behoove Notre Dame to look at easing up the schedule in some years? Possibly; the Playoff committee is likely taking Notre Dame in any season at 12-0 or 11-1 as long as strength of schedule isn't too bad.
That said, would they get in with a poor schedule at 10-2? Probably not, so if Notre Dame is really thinking about changing their schedule practices, they will need to be very careful with how they pick their spots.