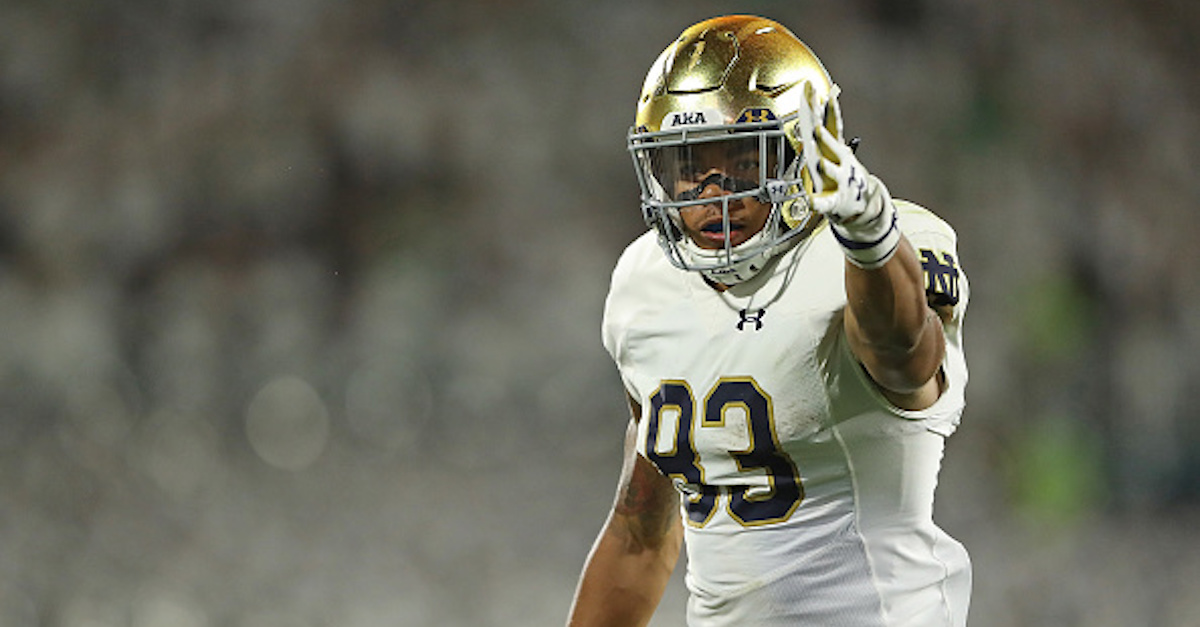 Leon Halip/Getty Images
EAST LANSING, MI - SEPTEMBER 23: Chase Claypool #83 of the Notre Dame Fighting Irish points to the fans after making a first down during the third quarter of the game against the Michigan State Spartans at Spartan Stadium on September 23, 2017 in East Lansing, Michigan. Notre Dame defeated Michigan State 38-18. (Photo by Leon Halip/Getty Images)
The No. 14 Notre Dame Fighting Irish are looking ahead to a pretty big bowl game against No. 17 LSU, but Brian Kelly and crew will, unfortunately, have to play the Citrus Bowl without their second-leading receiver.
Laken Litman of the IndyStar is reporting that Chase Claypool will have to miss Notre Dame's matchup in the Citrus Bowl due to a right shoulder injury. The loss of Claypool was confirmed by Kelly, who as Litman passes on, does expect the wideout to be back in time for spring practice.
Claypool aggravated his AC joint in last Tuesday's practice, Notre Dame's third of the postseason, when he went up for a ball in a one-on-one drill and landed on his shoulder wrong. He will have surgery this coming Tuesday and Kelly expects him to be back for spring ball.

"There's frustration, obviously, the first day or two, 'Why me?'" Kelly said. "He's in a good place. He understands he's just missing one game. That's the great part about it. this happens in the middle of the season, he misses five, six, seven games. So you know, on the positive side, he misses one game and he's back full strength going into the spring."
Claypool obviously had to deal with frustration but Kelly is right to point to the big picture. The wideout still has two more years to get things done at Notre Dame, and there's a decent chance the Citrus Bowl won't be the biggest bowl the Irish play in for the rest of Claypool's career.
It's also worth noting that he's poised to do some very big things for Notre Dame once he comes back at full-strength, so this time off could really allow him to focus on taking that next step as a wide receiver.
Claypool was Notre Dame's second-leading receiver this season, having caught 29 passes for 402 yards and two touchdowns.
He has a chance to make an even bigger impact next season. So yes, this is a setback, but hopefully, it's just a bump in the road.