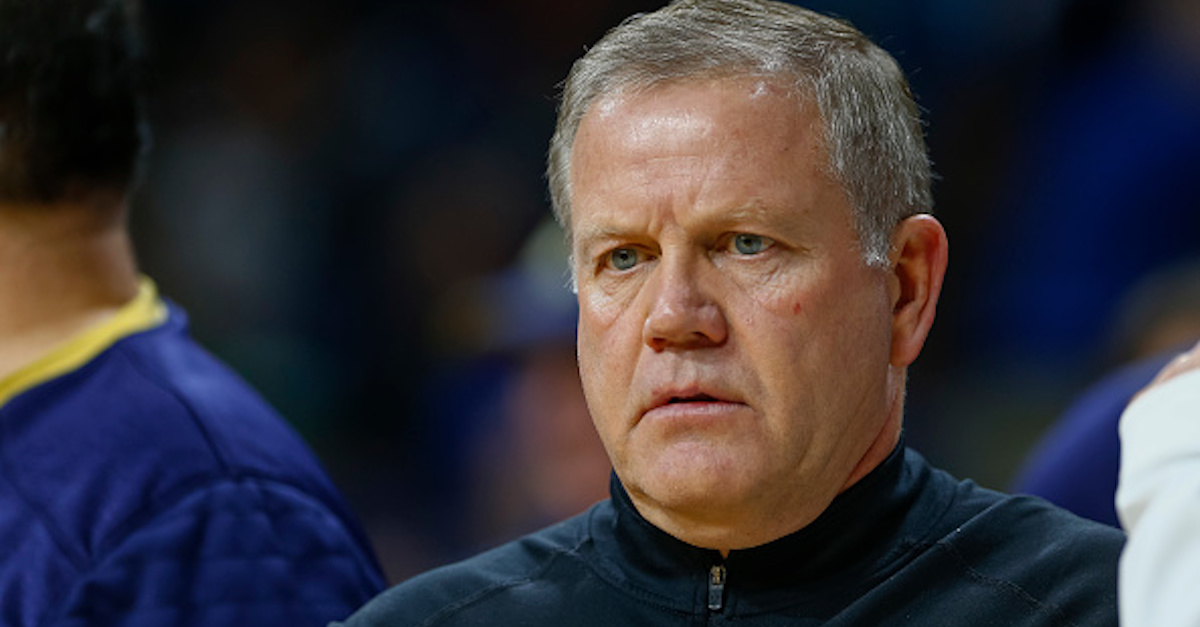 Michael Hickey/Getty Images
SOUTH BEND, IN - FEBRUARY 07: Notre Dame Fighting Irish head football coach Brian Kelly is seen at the game against the Wake Forest Demon Deacons at Purcell Pavilion on February 7, 2017 in South Bend, Indiana. (Photo by Michael Hickey/Getty Images)
Life hasn't been great on the football field for Brian Kelly and the Notre Dame Fighting Irish in the recent past and, now, the program is under fire with regard to a lawsuit from a former player. Laken Litman and Mark Alesia of the Indianapolis Star bring word from former Notre Dame linebacker Douglas Randolph, who has filed such a lawsuit for negligence amid allegations of medical reports that were hidden from him during his time with the program.
The report indicates that the lawsuit includes Randolph's diagnosis of spinal stenosis and allegations that Notre Dame did not provide him with the results of a scan on his spine that would have forced him into retirement.
"If he had been told the truth about the results of this MRI scan, his football career would have ended on that date and all subsequent injuries and permanent damage he has endured would have never occurred."
Randolph played the 2015 season with the ailment, according to the lawsuit and he "suffered numbness in his upper extremities" in September of that year. From there, the suit alleges that he told a trainer and nothing was done about the injury aside from inserting him back into practice just moments later.
As always with lawsuits, this is only one side of the story but, if true, it is absolutely a brutal look for Kelly and the Notre Dame program. Stay tuned for updates as they become available.