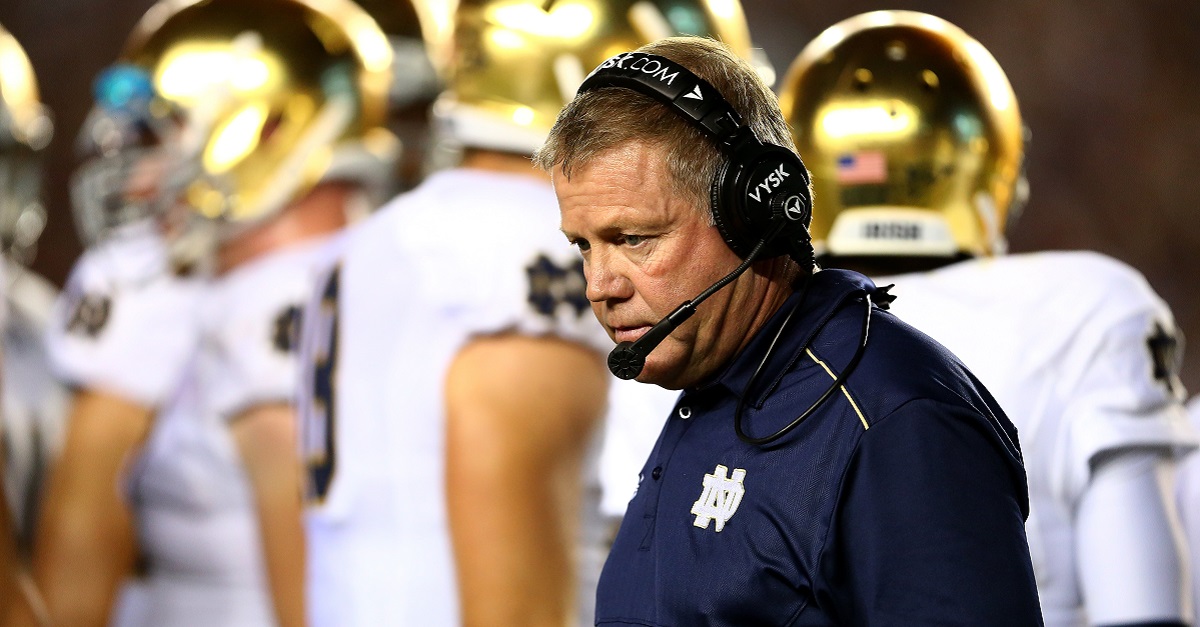 Streeter Lecka/Getty Images
TALLAHASSEE, FL - OCTOBER 18: Head coach Brian Kelly of the Notre Dame Fighting Irish walks the sidelines against the Florida State Seminoles at Doak Campbell Stadium on October 18, 2014 in Tallahassee, Florida. (Photo by Streeter Lecka/Getty Images)
Notre Dame was forced to vacate more than 20 victories from their college football program and, as you may expect with a spotlight on this type of institution, fallout has been swift. The university's president weighed in with sharp criticism of the NCAA's ruling and an ESPN analyst even went as far as to say that the governing body "overstepped" in its punishment of the Fighting Irish.
Still, for many, vacating wins is simply an empty gesture, as the experiences still took place and the memories remain. With that said, the NCAA record book still exists and, as a result of the 21 victories being removed from Notre Dame's ledger at this juncture in the process, the all-time wins list is dramatically affected.
Michigan was already sitting at the top of the list with 943 wins and they are the program unaffected by Notre Dame's loss. After that, though, things get interesting, with Texas and Ohio State (898 wins) overtaking Notre Dame and teams like Nebraska (893 wins) and Alabama (891 wins) also surpassing the Irish.
With the loss of victories, Notre Dame goes from 906 wins to 885 wins and, while that may not seem like much, a lot of universities (including this one) take great pride in where their football programs stack up against one another. There is still time for the Irish to close the gap on some of the programs it now sits behind but the punishment does sting in this particular way.