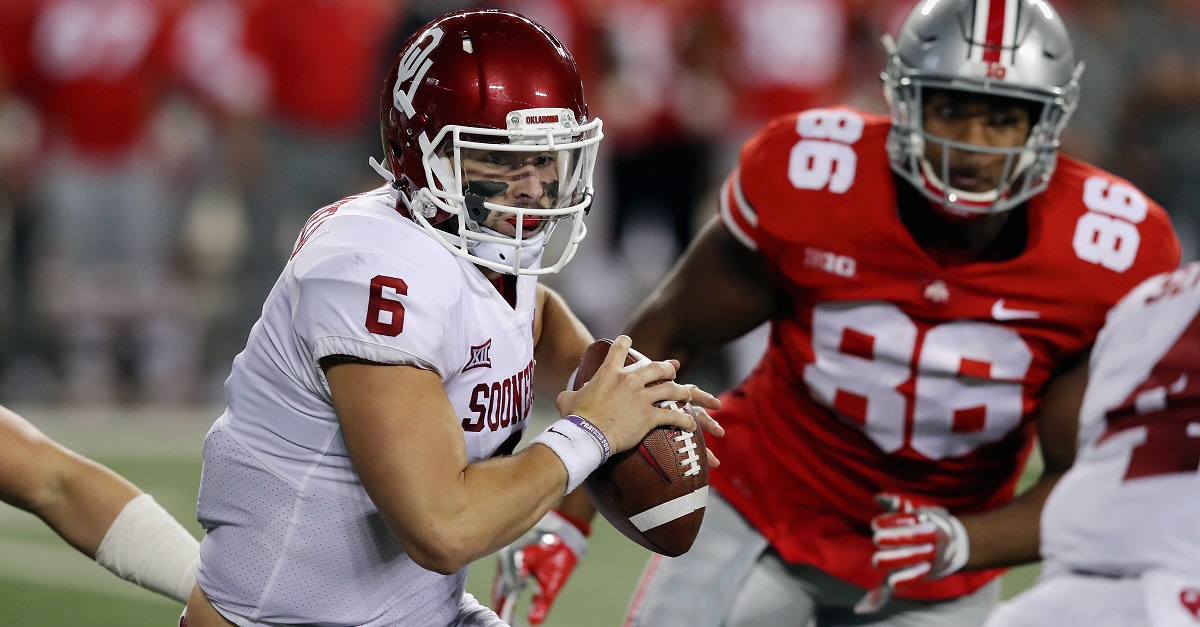 Gregory Shamus/Getty Images
COLUMBUS, OH - SEPTEMBER 09: Baker Mayfield #6 of the Oklahoma Sooners runs with the ball during the first half against the Ohio State Buckeyes at Ohio Stadium on September 9, 2017 in Columbus, Ohio. (Photo by Gregory Shamus/Getty Images)
No. 2 Ohio State and No. 5 Oklahoma were locked in a defensive struggle for all of the first half of their big-time Saturday night game. Sparks started flying right away in the third quarter and that helped the Sooners win the game 31-16. The loss was the worst one this century according to ESPN Stats & Info:
"Ohio State's last home loss by at least 17 points came in 1999, a 46-20 loss to Illinois. OSU finished 6-6 that season."
The second half became Oklahoma and Baker Mayfield after that. He threw two touchdowns to put the Sooners up 24-13 and finished with 386 passing yards and three touchdowns on the night. He looked every bit the Heisman finalist that he was last year and did it on a big stage with a head coach who was coaching his first ever road game.
And now he's 34-3.
J.T. Barrett struggled all night completing only 19 of his 35 pass attempts for 183 yards and an interception on the game. He did not make good reads, didn't get rid of the ball fast enough and looked lost at times. His leadership that's spoken so highly only goes so far and can't complete passes for him. If he doesn't get it into high gear and get the passing game going, Ohio State is going to struggle in other Big Ten games and could spell disaster for their College Football Playoff hopes.
Meanwhile, Oklahoma is in great shape for the CFP and should be in the top-4 of both polls after a win like this. Mayfield will have to get some help on the ground as several rushers only had 104 yards rushing. But Mayfield showed that his arm can carry this team if needed and that might be the case as the Big 12 schedule comes up.
Oklahoma will face Tulane at home while Ohio State will have to regroup at home against Army next week.