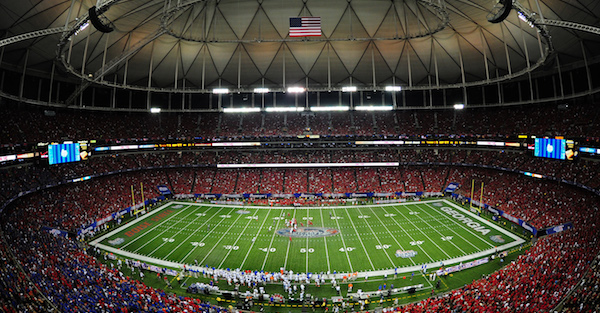 Scott Cunningham/Getty Images
ATLANTA - SEPTEMBER 3: The Georgia Dome is shown during the Chick-Fil-A Kickoff Game between the Georgia Bulldogs and the Boise State Broncos on September 3, 2011 in Atlanta, Georgia. Photo by Scott Cunningham/Getty Images) *** Local Caption ***
The Chick-fil-A Kickoff Game has been a huge win for the city of Atlanta, the ACC and SEC, and the world of college football. In 2017, the festivities on the opening weekend of the season will be split into two parts, with Alabama and Florida State battling on Saturday, Sept. 2 and Tennessee taking on Georgia Tech on Monday, Sept. 4 in the newly-constructed Mercedes-Benz Stadium. Looking ahead to the future, there are plenty of quality match-ups on the horizon including schools from the two conferences and, on Wednesday, word emerged that Louisville and Ole Miss will reportedly face off in the 2021 edition.
This has the look of a less high-profile match-up than Florida State against Alabama but both Ole Miss and Louisville have put together strong showings in the recent past.
The Rebels are certainly in a state of flux in the aftermath of Hugh Freeze's ousting but Ole Miss has recruited at a high level and they could reasonably project to be a strong team in four years. As for Louisville, Bobby Petrino has a good thing going and, even with Lamar Jackson gone by 2021, it is reasonable to think that the Cardinals will be intriguing.
Four years is a long time to wait for a game but these two fan bases are likely excited about a trip to Atlanta and fans everywhere should have a fun contest to watch.