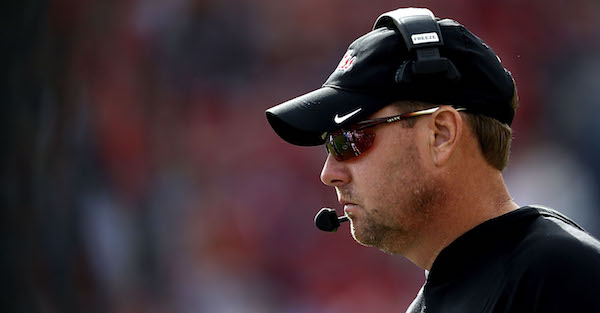 Jonathan Bachman/Getty Images
OXFORD, MS - NOVEMBER 05: Head coach Hugh Freeze of the Mississippi Rebels reacts during the first half of a game against the Georgia Southern Eagles at Vaught-Hemingway Stadium on November 5, 2016 in Oxford, Mississippi. (Photo by Jonathan Bachman/Getty Images)
The Ole Miss NCAA investigation rolls along and it reportedly isn't going well for Hugh Freeze and the Rebels. Self-inflicted sactions could help Ole Miss avoid certain levels of punishment but, an attorney close to the case recently revealed that trouble is brewing.
Attorney Bruce Loyd spoke to WEVV about Ole Miss and the inner workings with regard to former assistant coach Barney Farrar. Simply put, he didn't hold back.
?It is as close to a death penalty as you can get without having that actually happen. Coach Farrar has been questioned extensively, in fact, five times by the NCAA about those allegations.?
Saying that it is "as close to a death penalty as you can get" is pretty scary in itself and Loyd expanded his thoughts on the flawed nature of the defense Ole Miss can put forward.
?To use the excuse that everyone else is doing it, that?s just not a good defense. That?s not a good reason. That?s not an acceptable reason. Some of these rules, you wish they weren?t there but the fact of the matter is they are ? and they?ve got to be enforced, and they?ve got to be followed. And if you don?t, you?ll find yourself in the position the University of Mississippi athletic department has found itself.?
This is a case that has, at least to some degree, flown under the radar in some circles but that won't be happening for long.