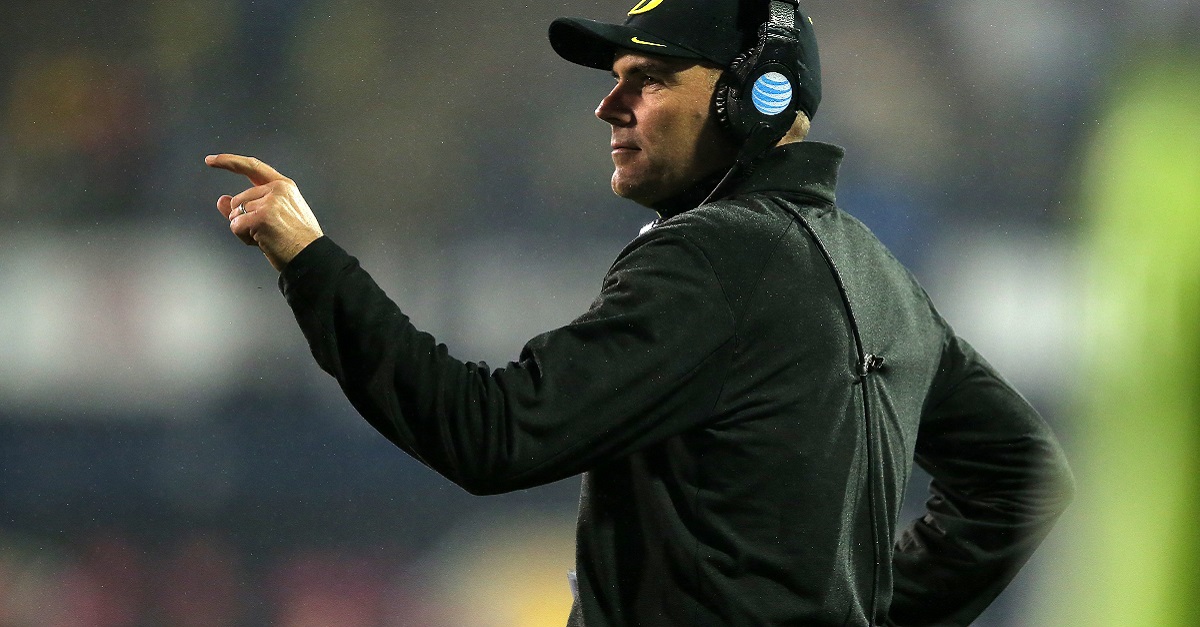 Doug Pensinger/Getty Images
BOULDER, CO - OCTOBER 03: Head coach Mark Helfrich of the Oregon Ducks leads his team against the Colorado Buffaloes at Folsom Field on October 3, 2015 in Boulder, Colorado. The Ducks defeated the Buffs 41-24. (Photo by Doug Pensinger/Getty Images)
This might be worse than the Charlie Strong situation.
Amid rumors that he will be fired, Oregon head coach Mark Helfrich will now have to wait until Wednesday… just to meet with Oregon athletic director Rob Mullens.
Now, there is some explanation to be had here. Mullens is on the College Football Playoff committee, to which he is obligated to give up his Mondays and Tuesday. That's why Helfrich is apparently being forced to wait on Wednesday.
Related: Finebaum thinks Lane Kiffin is done at Alabama, could target two high-profile jobs
However, the bad news for Mullens: Texas Tech athletic director and Playoff chairman Kirby Hocutt was able to have a presser on Sunday to give a vote of confidence to Red Raiders head coach Kliff Kingsbury.
"I asked if we could meet today and it just didn't work out," Helfrich told the Oregonian.
Is Mullens really going to string out his coach that long? It looks like it, and that's just a horrible look for Oregon as a university. If he's done, don't make him wait. If he's not done, do what Hocutt did and tell everyone that now.