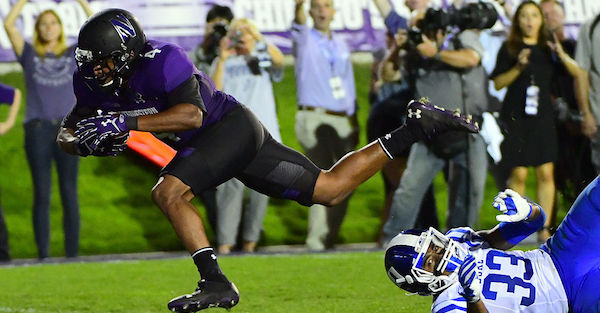 David Banks/Getty Images
EVANSTON, IL- SEPTEMBER 17: Solomon Vault #4 of the Northwestern Wildcats scores a touchdown over Deondre Singleton #33 of the Duke Blue Devils during the second half on September 17, 2016 at Ryan Field in Evanston, Illinois. Northwestern won 24-13. (Photo by David Banks/Getty Images)
Northwestern wide receiver and kick returner Solomon Vault is expected to miss the 2017 season after sustaining a lower-body injury.
Vault had surgery to repair the injury, and he is expected to redshirt next year.
During his first three seasons at Northwestern, Vault contributed to the Wildcats as a receiver, running back, and kick returner.
Vault has carried the ball 87 times for 266 yards and two touchdowns. He has caught 32 passes for 290 yards and two touchdowns.
In the return game, Vault amassed 1,505 yards as a kick returner. He scored five touchdowns in three seasons on kickoff returns, according to InsideNU.com.
The Wildcats also lost starting cornerback Trae Williams to injury earlier this offseason, and he is expected to miss about half of the 2017 season.
Related: Big Ten starter expected to miss at least six months after horrible injury
Vault will have one year of eligibility remaining during the 2018 season.
The Wildcats finish 7-6 last season, including a bowl win in the Pinstripe Bowl over Pitt.
(h/t InsideNU)