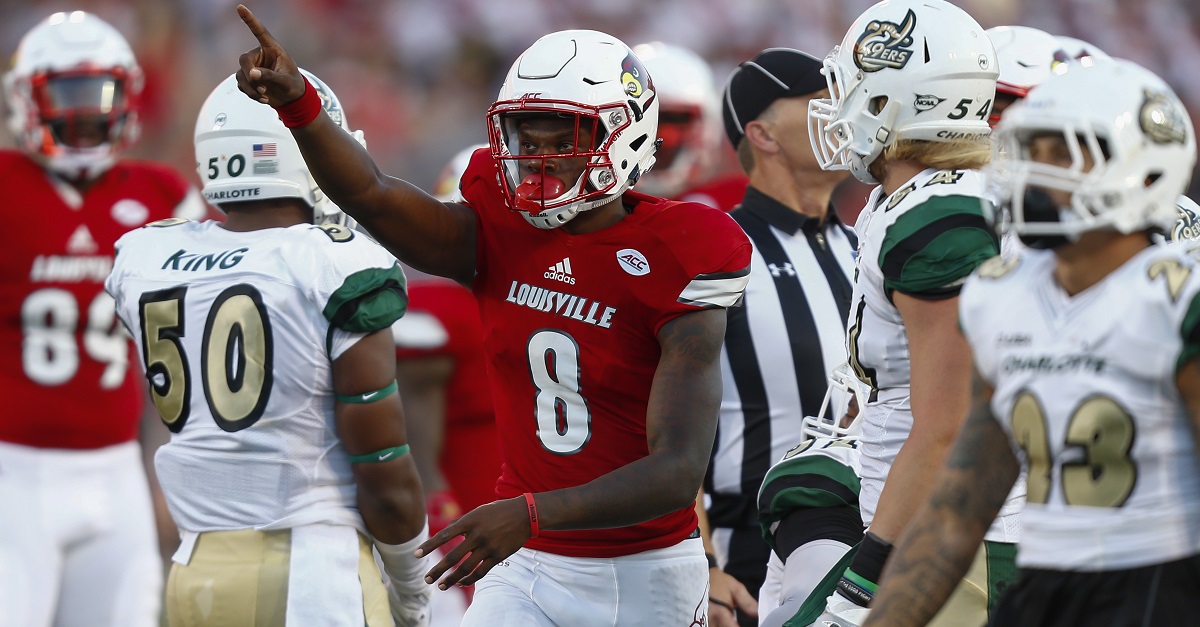 Michael Hickey/Getty Images
LOUISVILLE, KY - SEPTEMBER 01: Lamar Jackson #8 of the Louisville Cardinals signals a first down during the game against the Charlotte 49ers at Papa John's Cardinal Stadium on September 1, 2016 in Louisville, Kentucky. (Photo by Michael Hickey/Getty Images)
Well this is one way to garner attention.
Louisville quarterback Lamar Jackson is being touted as a darkhorse Heisman candidate, and there is a good reason why: the dynamic dual-threat quarterback can put up stats like few others, and the Cardinals have a real shot at making some noise in the ACC this year.
While it may have been against a lowly Charlotte team, Jackson showed just how ridiculously he can fill up on box score on Thursday night. In just the first half, Jackson scored eight total touchdowns: six through the air and two on the ground. The eight scores are a Louisville record for a game, and Jackson broke that record in just 30 minutes of game play.
RELATED: One rising QB just threw for 450 yards, 7 TDs in half of his spring practice
Yes, we still need to play the "it was against Charlotte" card as a precaution, but Jackson did look improved in his passing game. Jackson was 17-for-23 on completions in the half, and he showed improved touch from his freshman season last year.
Jackson is one of the fastest players in college football, so if he can start to figure out the passing game… we might have something special here.