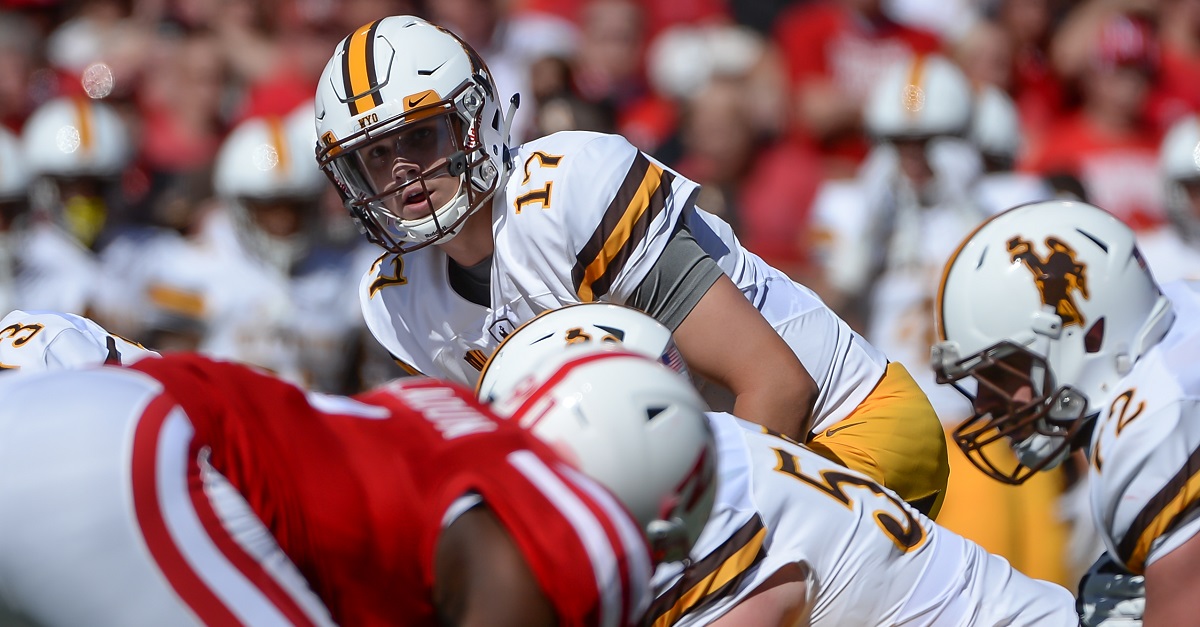 Steven Branscombe/Getty Images
LINCOLN, NE - SEPTEMBER 10: Quarterback Josh Allen #17 of the Wyoming Cowboys looks over the line against the Nebraska Cornhuskers at Memorial Stadium on September 10, 2016 in Lincoln, Nebraska. (Photo by Steven Branscombe/Getty Images)
Coming into the 2017-18 college football season, there may not be a more intriguing quarterback prospect than Wyoming's Josh Allen.
And the hidden gem of the midwest isn't so hidden anymore, as Allen has found himself shoot up 2018 NFL Draft boards already.
Bleacher Report published a piece Thursday that broke down the rise of Allen and one of the people quoted in the fantastic piece is quarterback guru George Whitfield's comments on the Cowboy.
Via Bleacher Report:
"His talent is mythical," says Whitfield, whose past clients include Cam Newton and Johnny Manziel. "He's Cam's frame, but he can stop, start and has the antenna of a Manziel. It's not a referendum on talent. It's flight hours. He's a young, talented pilot. He just needs more hours in the plane."
Allen does have a good frame at 6'5″ and 235 pounds, as outlined in the tweet below, but comparing the rising star Allen to both Cam Newton and Johnny Manziel is interesting.
Another common comparison for Allen has been Philadelphia Eagles' quarterback Carson Wentz who went No. 2 overall in the 2016 NFL Draft.
The hype train for Allen is just starting and it certainly seems like it's almost a lock that the Wyoming Cowboy hears his name called very early in the 2018 NFL Draft.