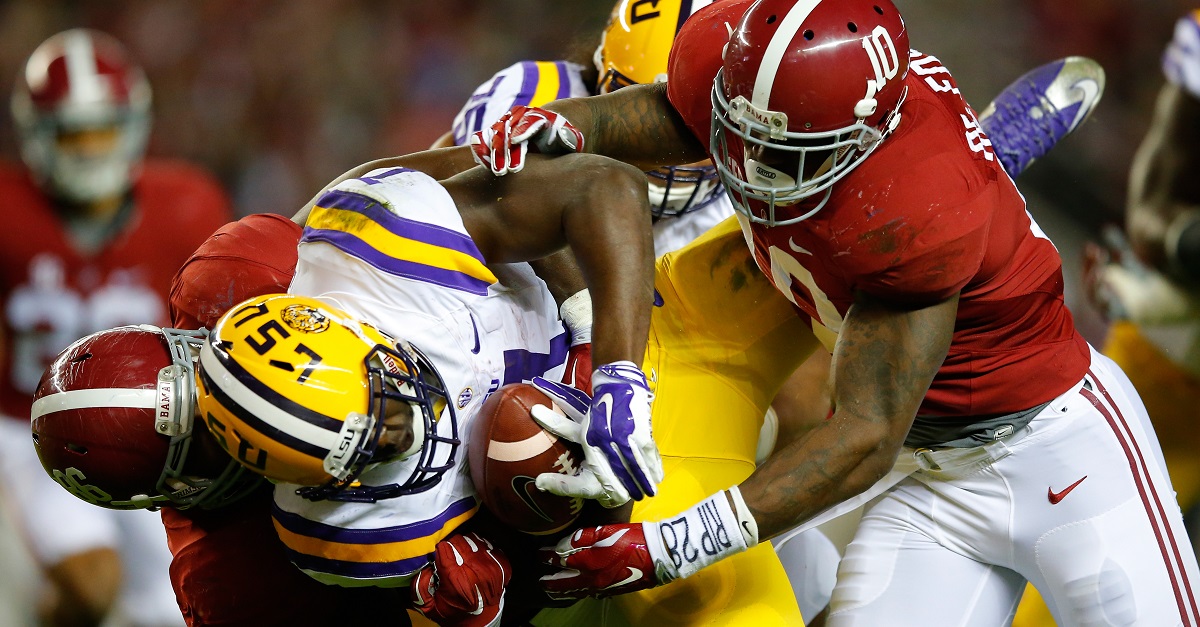 Kevin Cox/Getty Images
TUSCALOOSA, AL - NOVEMBER 07: Leonard Fournette #7 of the LSU Tigers is tackled by Reuben Foster #10 and Truett Harris #86 of the Alabama Crimson Tide in the third quarter at Bryant-Denny Stadium on November 7, 2015 in Tuscaloosa, Alabama. (Photo by Kevin C. Cox/Getty Images)
This is a bold take by one team.
Alabama linebacker Reuben Foster has been called the "best pure talent" in this year's NFL Draft by ESPN's Todd McShay, but that doesn't mean that NFL teams are quite on board. Foster already created controversy earlier this month when he was sent home from the NFL Combine, but apparently one team with a Top 15 pick was already ahead of that incident, saying that they didn't have Foster on their Draft board before the incident.
From Sports Illustrated:
He is considered a high-first round talent, one of the best linebackers to come out in years and the most highly regarded to emerge from Tuscaloosa during the Saban era. Yet, at least one NFL team with a selection in the top 15 had already removed Foster from consideration before the incident at the combine.
"He already had immaturity, issues with life skills. This is the same guy," said an evaluator for the team after Foster was sent home from Indianapolis. "We're not in the market."
"Not in the market"? Yikes!
According to SI, the concern for Foster goes back to his background, his maturity, and poor performance in interviews. However, Foster's performance on the field at Alabama shows he has the talent to be an NFL player, and it's odd to see that one team — with a Top 15 pick, no less — is completely passing on Foster altogether.