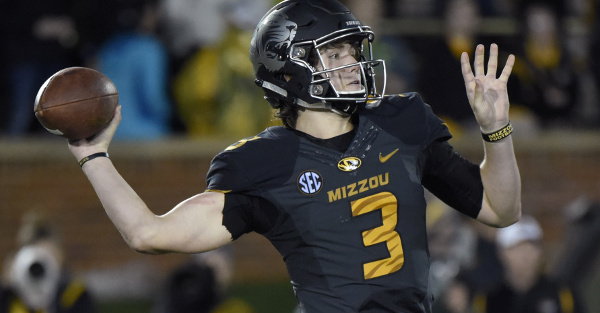 Ed Zurga/Getty Images
COLUMBIA , MO - NOVEMBER 5: Quarterback Drew Lock #3 of the Missouri Tigers passes against the Mississippi State Bulldogs in the fourth quarter at Memorial Stadium on November 5, 2015 in Columbia, Missouri. (Photo by Ed Zurga/Getty Images) *** Local Caption *** Drew Lock
Clemson was beating South Carolina State so badly last week that the game was reduced to 12-minute quarters in the second half. While beatdowns happen often in college football, you would think we wouldn't see something like that for the rest of the season.
Well, we saw it the very next week, and this time it was even worse.
Missouri took a whopping 58-0 lead at halftime over poor Delaware State on Saturday. As a result, the two teams agreed to shorten the game to just 10-minute quarters for the second half, meaning that they would only play a total of 50 minutes instead of the usual 60-minute game length.
The game is still on-going, but Missouri hasn't taken their foot off the gas just yet; they've already expanded that lead to 79-0 in the fourth quarter.
This was no fluke. Missouri may be a mediocre SEC team, but Delaware State is a really bad FCS team. The Hornets were just 1-10 last season in FCS, meaning they were always going to get creamed by any FBS squad.
Suffice to say, Missouri likely won't be playing Delaware State again. This is just embarrassing at this point.