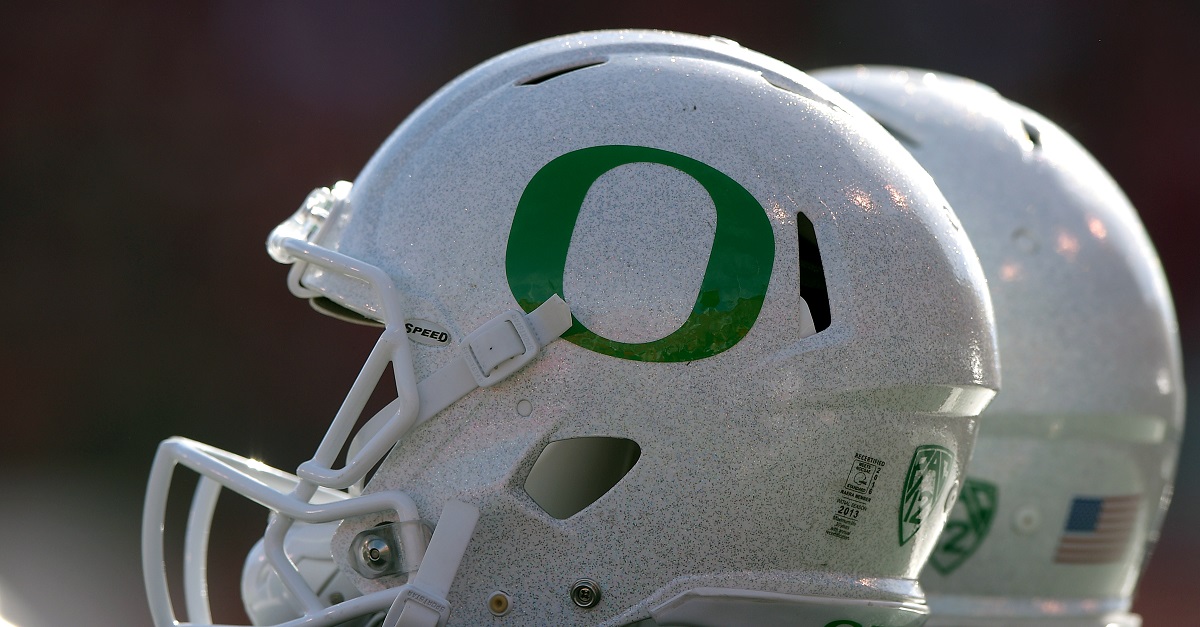 Gene Sweeney Jr/Getty Images
SALT LAKE CITY, UT - NOVEMBER 19: Isolated view of Oregon Ducks helmets on the sideline during the Ducks game against the Utah Utes at Rice-Eccles Stadium on November 19, 2016 in Salt Lake City, Utah. (Photo by Gene Sweeney Jr/Getty Images)
The Oregon Ducks are known for many things on the football field, but at the top of the list is their sleek persona when it comes to uniforms. Because of the university's partnership with Nike and the proximity of the Oregon campus to the company's headquarters, it seems as if the Ducks always have new uniforms, new helmets or the "next big thing" in apparel.
This time, though, Oregon's new uniform release comes with a clear and uplifting message and the Ducks unveiled the new digs on Thursday.
The uniforms, as noted above, come in conjunction with Doernbecher Children's Hospital patients and an official release from Nike includes the following:
The new idea ?to have University of Oregon student athletes and pediatric cancer survivors work together with Nike creatives to build an entire uniform system at elite performance standards as well as sideline and fan gear ? came from a UO player in November 2014. He shared his thought with Todd Van Horne, Nike Football?s Creative Director, who was on their campus to discuss opportunities for raising awareness and support for the fight against cancer. Everyone was in.

The kids, their Nike designers and the U of O athletes were chosen in May, and the kick-off event ? a workshop at the University of Oregon where the Nike designers, Doernbecher kids and their families along with the U of O players and staff got to work ? occurred in July. ?This is the first time we brought in football athletes to collaborate with kids on a full head to toe system of dress,? says Paul Sullivan, the University of Oregon Art Director for Nike. The kids met with their designers four times and the athletes twice, where they would collaborate, brainstorm, sketch and more.
The uniforms will roll out on Sept. 9 against Nebraska and the "Nike Vapor Untouchable" uniform looks quite clean and impressive. In addition, some of the sideline gear will be available prior to kick-off on Sept. 4 but it is a very cool idea that Oregon put together with Nike and, even if new jerseys are often motivated by the bottom line, this accomplishes more than that.