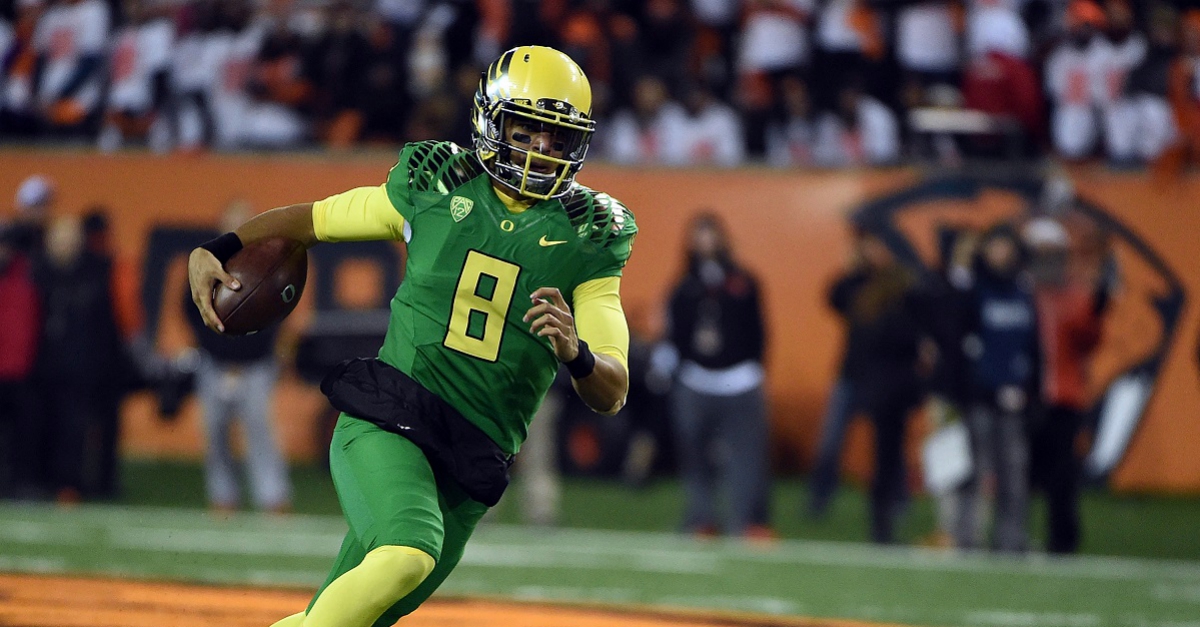 Steve Dykes/Getty Images
CORVALLIS, OR - NOVEMBER 29: Quarterback Marcus Mariota #8 of the Oregon Ducks runs with the ball during the third quarter of the game against the Oregon State Beavers at Reser Stadium on November 29, 2014 in Corvallis, Oregon. (Photo by Steve Dykes/Getty Images)
Prior to last year's abysmal 4-8 season, Oregon had asserted itself as one of the top programs in college football over the last decade. The Ducks have appeared in two national championship games since 2010, but they have always been associated with their ever-changing and occasionally outlandish uniforms.
With help from the pocketbook of Nike co-founder Phil Knight, the Ducks have worn 51 different jerseys and 24 different helmets since 1997, according to OregonLive.com.
However, Oregon is planning to wear more "traditional colors" in Willie Taggart's debut season in 2017, according to Kenny Farr, the football equipment administrator.
"We're going to try to stick to more traditional colors this year," Farr said.  "Trying to kind of simplify a few things but still keep it modern and keep it looking really good."
Related: Oregon schedules big-time home-and-home series with another rising Power-5 program 
Now, there's no telling what "traditional" means for Oregon. Does anyone even remember what the Ducks' traditional uniforms look like?
Hopefully, these atrocious blue and orange uniforms they wore last year won't be in the rotation.
Oregon fans will get a glimpse of the uniforms during the spring game on April 29 at Autzen Stadium at 11 a.m.
Farr said the uniforms will be "kind of a throwback" to older uniforms, though he wasn't specific with what that meant exactly.
The Ducks are hoping the new uniforms and new coaching staff will result in a better result on the field next season.
(h/t Oregon Live)