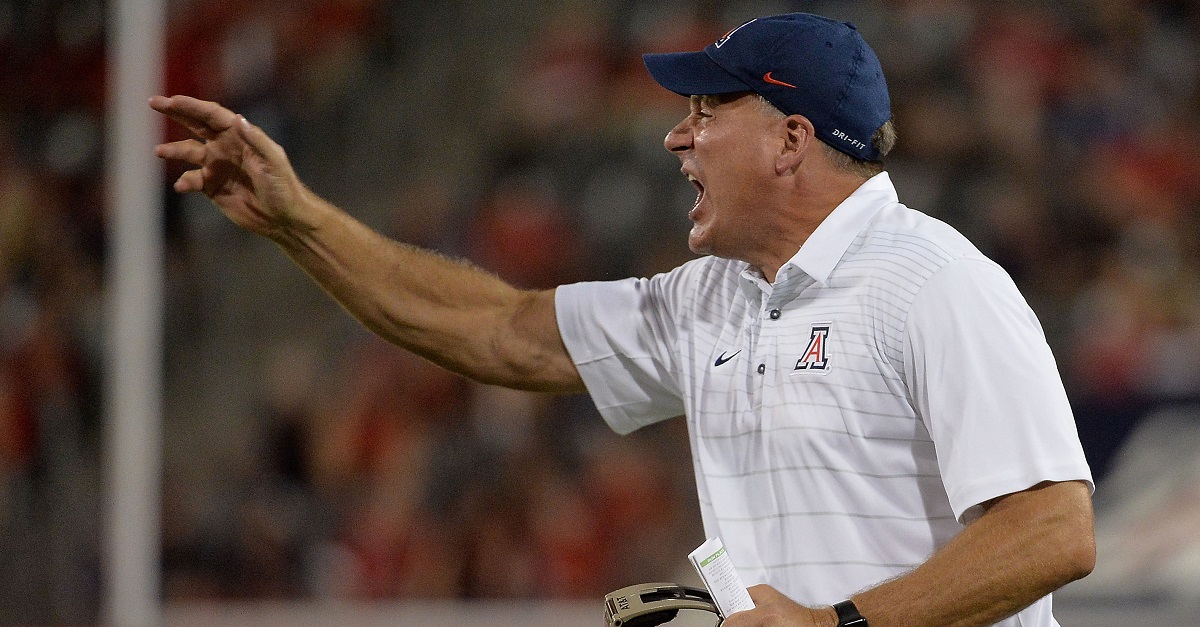 Jennifer Stewart/Getty Images
TUCSON, AZ - SEPTEMBER 09: Arizona Wildcats head coach Rich Rodriguez reacts in the game against the Houston Cougars at Arizona Stadium on September 9, 2017 in Tucson, Arizona. The Houston Cougars won 19-16. (Photo by Jennifer Stewart/Getty Images)
Rich Rodriguez was the head coach of the Arizona Wildcats for six seasons. After a mediocre 7-6 record in 2017 — following a 3-9 record in '16 — Rodriguez is no longer the head coach in Tuscon.
Perhaps somebody should have filled in his staff on that fact, though.
That is, at least, if you believe what one of Rodriguez's assistants told Bruce Feldman of FOX Sports/FSI. Apparently, this assistant — who was not named — found out about his head coach being fired the way most people find out about everything nowadays.
Twitter.
This may or may not be true, but it's worth noting that Rodriguez was fired under strenuous circumstances.
A former athletics department employee had accused the head coach of sexual harassment and intended to sue the school. That led to Arizona investigating the claims, and though no direct evidence was found, it did appear that the Wildcats found enough information to lead them to fire Rodriguez.
"However, Arizona Athletics did become aware of information, both before and during the investigation, which caused it to be concerned with the direction and climate of the football program," Arizona wrote in a statement.
For his part, Rodriguez did respond to both his accuser and his now-former employer, actually admitting to an affair in the process.
It will be interesting to see how this saga eventually ends up for Rich-Rod, but it sounds like Arizona could have communicated a bit better with his staff regarding the impending change.