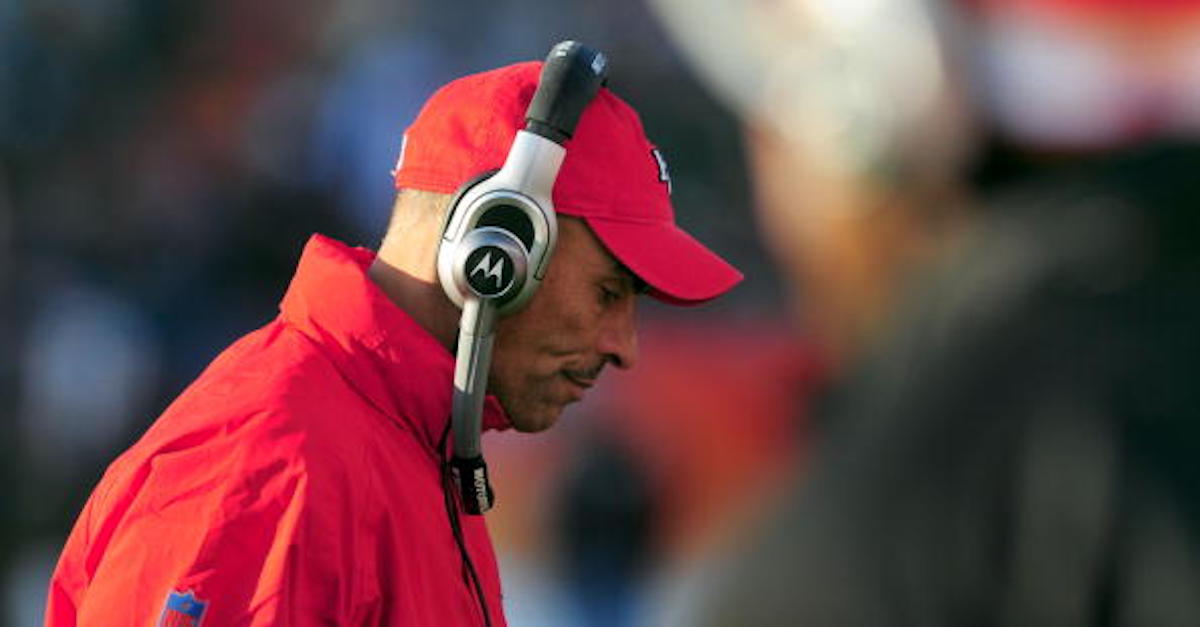 Steve Dykes/Getty Images
DENVER - DECEMBER 9: Head coach Herm Edwards of the Kansas City Chiefs does not like what he is seeing in the football game against the Denver Broncos at Invesco Field at Mile High December 9, 2007 in Denver, Colorado. (Photo by Steve Dykes/Getty Images)
Herm Edwards was perhaps one of the most head-scratching hires of the college football silly season.
In fact, Edwards may be one of the most out of the blue — and potentially terrible — coaching hires in a long, long time.
None the less, Arizona State took a shot on Edwards to replace the fired Todd Graham. This despite the fact that Edwards hasn't coached since the 2008 season when he was the head coach of the Kansas City Chiefs. The last time Edwards was a college coach was from 1987 to 1989, when he was defensive backs coach at San Jose State University.
So yeah, it was a head-scratching hire for ASU, and unfortunately for the Sun Devils, the Edwards-era is already off to a tough start.
The Associated Press is reporting that ASU defensive coordinator Phil Bennett won't be returning to be a part of Edwards' staff. The reason, per the AP, is both personal and because of health reasons.
Here's more info:
Edwards retained the entire offensive staff, including coordinator Billy Napier, and had hoped to keep Bennett after being hired on Dec. 3.

The 62-year-old Bennett joined Todd Graham's staff last season after working five seasons at Baylor. Graham was fired on Nov. 26, and athletic director Ray Anderson said he hoped the new coach would consider retaining at least some of the staff, mentioning Napier and Bennett by name.

Edwards said a statement that he wanted Bennett to remain on the staff, but appreciates that he chose not to because of family reasons.
Bennett citing personal reasons is a bit vague, especially considering the criticism of the Edwards hire for ASU, but it is worth noting that the now former Sun Devils defensive coordinator is 62-years old.
That line of thinking holds up until realizing that Edwards himself is 63. He's spent the past eight years as a football analyst for ESPN, so it's not like he's been living a rough and tumble life since then, but one has to wonder just how football-sharp Edwards will be after so many years away from the game.
Plenty of head coaches can get it done in their 60's, but Edwards has been a talking head for a long time now, and he's never been a college head coach.
Perhaps Bennett did truly leave for personal and health reasons, or maybe there's a bit more behind this recent departure for ASU.