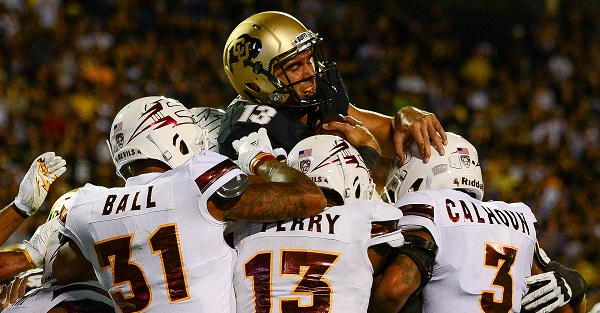 Dustin Bradford/Getty Images
BOULDER, CO - OCTOBER 15: Colorado Buffaloes quarterback Sefo Liufau #13 is lifted off his feet by Arizona State Sun Devils linebacker Marcus Ball #31, defensive back Armand Perry #13, and linebacker DJ Calhoun #3, in the first half of a game at Folsom Field on October 15, 2016 in Boulder, Colorado. (Photo by Dustin Bradford/Getty Images)
Arizona State got off to a positive start to the 2017 college football season with a win over New Mexico State in the team's season opener. However, that victory took place without one of the team's best players on the field and, as of Wednesday, we now understand why.
Redshirt senior defensive back Marcus Ball, who was expected to captain the secondary in his final season of college eligibility, took to Twitter to announce his shocking retirement from college football.
Ball's stated reasoning for his retirement stems from epileptic seizures and he is seeking a "better quality of life" in a post-football world.
"Those who know my story know that I have now been battling with uncontrollable seizures going on 3 years and was diagnosed epileptic my sophomore summer! Those who don't, I want to make it clear that I am now retiring from football so I can live a better quality of life."
With the information given, it seems to be a no-brainer for Ball to step away from the game, even if it isn't every day that you see a top-flight player from a major conference doing so at the outset of his final season. Marcus Ball won't be on the field anymore for the Sun Devils but, by all accounts, this appears to be the right move.