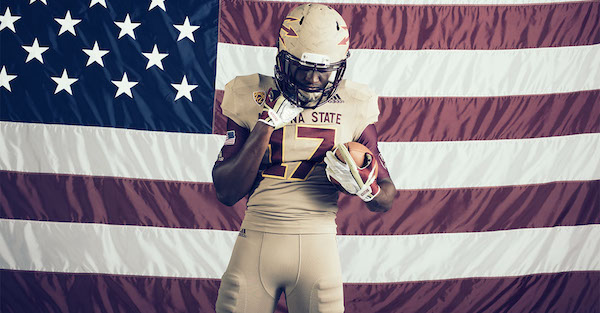 Adidas
Adidas
Pat Tillman's legacy lives on at Arizona State, years after his passing.
Tillman was an NFL player who gave up his Arizona Cardinals contract and became an Army Ranger in the wake of the 9/11 attacks. He was killed in the mountains of Afghanistan in what the Pentagon later determined was a friendly fire incident.
Tillman was a linebacker at Arizona State in the mid-90s, including his efforts of being one of the leading defensive players for the 1996 Sun Devils team that won the Rose Bowl.
Arizona State unveiled special edition adidas "Brotherhood" uniforms, which will be worn on Saturday, November 4 against Colorado. It was designed in collaboration with Sun Devil Athletics and the Pat Tillman Foundation to pay tribute to our nation's active U.S. military and veterans.
Here's more, via adidas:
"Inspired by Tillman?s legacy, the special edition ?Brotherhood? uniforms are centered around the tan colors of Army fatigues and accented with the Sun Devils? iconic maroon and gold colors. Building off the theme of previous uniforms, adidas designers worked in tandem with ASU to research the typography and sizes of the wordmark and numbers from the Tillman era in order to recreate the look that the 1996-1997 team wore during their Rose Bowl season.

Additional design details include the phrase ?Give ?em Hell,? a line from the ASU fight song which Pat famously uttered to his teammates prior to beating defending National Champion Nebraska 19-0 in 1996.

Further paying homage to Tillman and the U.S. Military, a tan camouflage helmet is highlighted with the word ?Brotherhood? on the back of the helmet. Underneath are the names of any ASU player or coach, past or present, who has served or is serving in the U.S. Military.

Created to honor Pat?s legacy of leadership and service, the Pat Tillman Foundation invests in military veterans and their spouses through academic scholarships?building a diverse community of leaders committed to service to others. The special edition ?Brotherhood? retail product line will be available at university bookstores and http://www.adidas.com with a portion of the proceeds benefiting the Pat Tillman Foundation."
Here are more pictures, via Adidas: