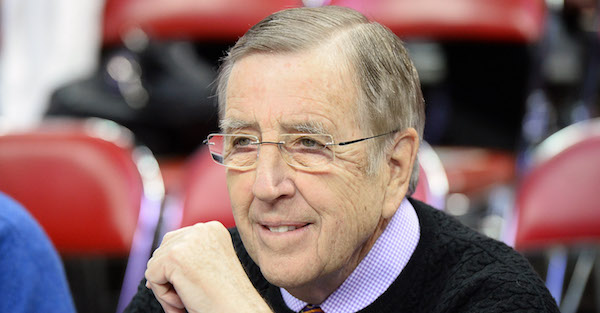 Ethan Miller/Getty Images
LAS VEGAS, NV - FEBRUARY 19: Sportscaster Brent Musburger appears before a game between the New Mexico Lobos and the UNLV Rebels at the Thomas & Mack Center on February 19, 2014 in Las Vegas, Nevada. New Mexico won 68-56. (Photo by Ethan Miller/Getty Images)
One of college football's most recognizable voices has made his predictions for the upcoming season.
Legendary broadcaster Brent Musburger, who retired from calling games earlier this year, picked USC as his favorite to win the national championship during an appearance on Barstool Sports' Pardon My Take podcast this week.
But there's a catch.
"If the horse stays 'Traveler,' I'm picking USC," Musburger said.
Musburger noted that there is a petition to change the famous USC horse mascot's name after members of the school's Black Student Assembly pointed out the similarities to Robert E. Lee's favorite horse "Traveller," which he said numerous times he disagrees with.
Like many others, Musburger named Trojans quarterback Sam Darnold as his preseason favorite to win the Heisman Trophy, although the mascot horse's name will also play a factor in his vote.
"If they mess around with my horse I'm off him," Musburger said. "I've got a vote. I will not vote for Darnold if they change the name of that horse."
Speaking of horses, Musburger also predicted Oklahoma State as his "dark horse" contender among the likes of USC, Alabama, Ohio State and Florida State.
Musburger also discussed a number of other topics with hosts Dan "Big Cat" Katz and PFT Commenter including the Mayweather-McGregor fight and football gambling.
You can listen to the entire interview here.