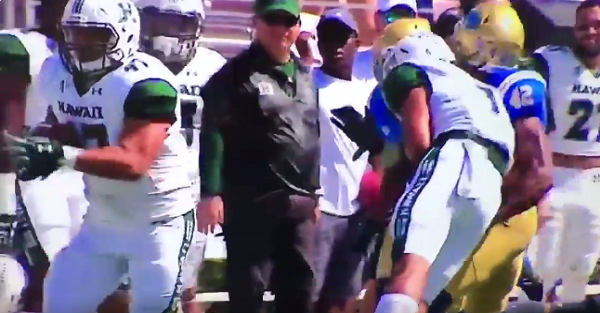 @AWESOMEworkman/Twitter
@AWESOMEworkman/Twitter
The Pac-12 conference was officiating the UCLA-Hawaii so you would think that they would be trying to protect those players. You would have thought wrong as they are admitting to making a pretty egregious mistake that has to do with this hit:
It took a full two days for the conference to admit the mistake:
Not only did the officiating crew review the play and let Hawaii tight end Metuisela Unga get away with the targeting hit, but the whole play was described incorrectly as well.
It looks like this kind of poor officiating could cost the crew down the road though so they aren't getting off the hook completely.
UCLA won the game 56-23 and will head to Memphis next week to play the Tigers.