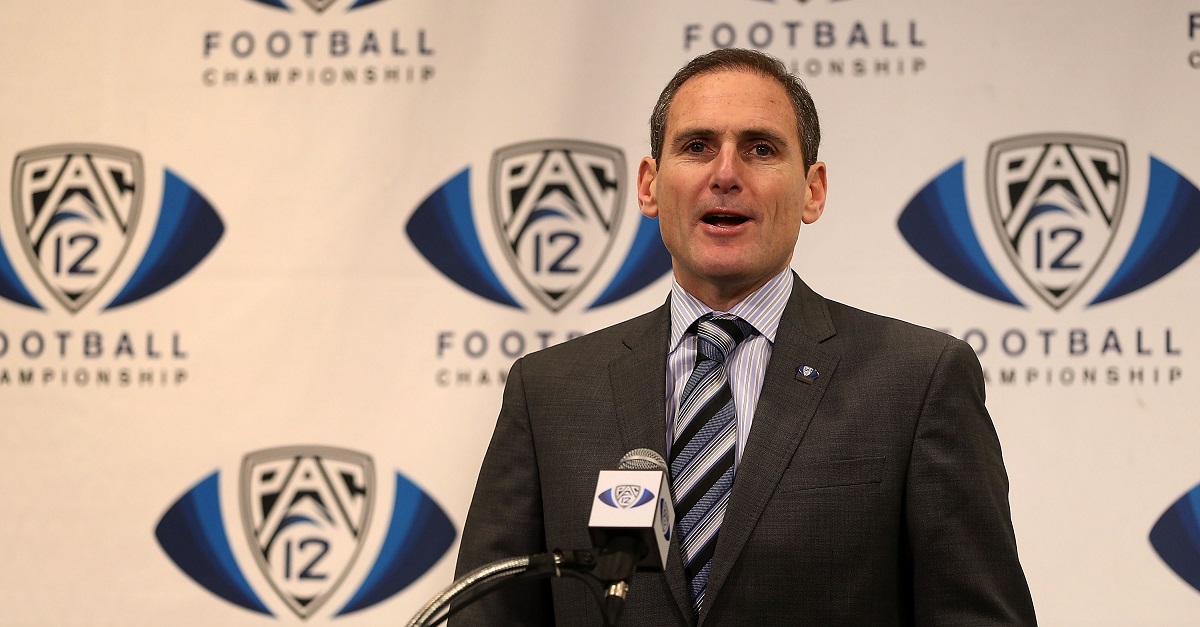 Christian Petersen/Getty Images
TEMPE, AZ - DECEMBER 07: Pac-12 Commissioner, Larry Scott speaks at a press conference before the Pac 12 Championship game between the Arizona State Sun Devils and the Stanford Cardinal at Sun Devil Stadium on December 7, 2013 in Tempe, Arizona. (Photo by Christian Petersen/Getty Images)
The Pac-12 was left out of the College Football Playoff this season and, with the exception of some fringe buzz for USC, that was an expected outcome in the final weeks of the campaign. While that could be an isolated incident, Pac-12 commissioner Larry Scott isn't sitting still in waiting for fixes and he announced this week that the conference will change some scheduling issues.
In short, Scott mandated that teams will not have to travel after Saturday road games to play another road game on Friday evening in 2018. Friday evenings have been home to several Pac-12 games recently (and will be joined by the Big Ten in short order) and, in 2017, there were some less than ideal results for the conference in that time slot.
Scott told the Associated Press that the conference will "have an improved schedule next year" and went on to say the following:
"The big thing you'll notice differently in next year's schedule is no team's got 12 in a row, No. 1. And, we agreed with our campuses that no team is going to have to play back-to-back road games if they have a Friday night game. Specifically, no one's going to have to play a road game on Saturday and then turn around and play a road game on a Friday. This past year, most of those teams lost those games — Washington State lost at Cal, USC lost at Washington State, so I think it was a real hot topic this year, and that will change."
Scott's direct references to losses from Wazzu and USC are noteworthy in that they took quite a bit of shine off the conference's top teams. In some ways, this could be seen as an overreaction but, in the same breath, traveling twice on a short week is less than ideal and a handful of teams in the conference playing 12 weeks in a row is not great for overall performance either.
It remains to be seen as to whether these tweaks will help the Pac-12 to prosper but 2018 will be interesting.