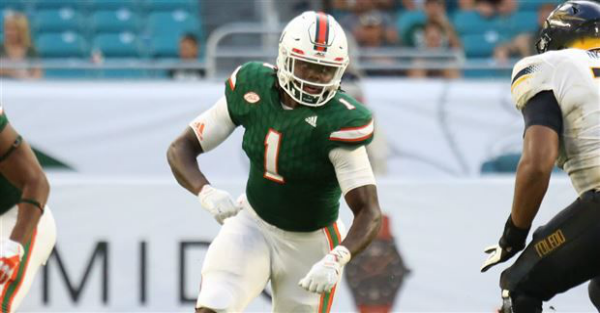 @TheStateOfTheU/Twitter
@TheStateOfTheU/Twitter
Former Miami Hurricanes defensive end DJ Johnson has officially announced where he plans on playing football next. Luckily for fans of the Oregon Ducks, he is headed to play for head coach Mario Cristobal.
Johnson spoke about his decision to transfer to Oregon and dropped a few inferences that could be considered jabs being sent toward his former program.
"Oregon has coaches that actually care about me as a person and want me to grow as a person whiles also growing as a football player," Johnson told ScoopDuck. "That's rare. They also feel that I can help change the culture of the team and improve the defense that's already been improving. Lots of love felt already but more than anything I'm looking forward to gaining the trust of the players and coaches on and off the field."
Johnson was Miami's highest-rated defensive prospect for its 2017 signing class. It was considered a big deal when the Hurricanes landed him. The 6-foot-5, 240-pound lineman recorded only three tackles in eight appearances as a true freshman.
Players generally have to sit a season following a transfer, but ScoopDuck noted that Johnson is going to apply for a hardship waiver. If the NCAA were to give it to him, he would be immediately eligible to play.