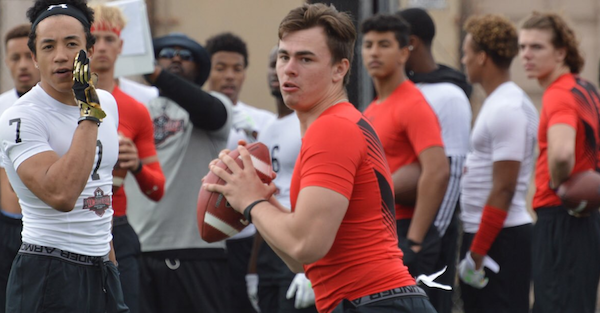 @jtdaniels06/Twitter
@jtdaniels06/Twitter
Five-star 2019 USC quarterback commit JT Daniels (6-foot-2, 205 pounds) will be joining his new team a year earlier.
Daniels, who was originally scheduled to graduate in 2019, told 247Sports that he intends to graduate this spring and enroll at Southern Cal in 2018.
"I just felt like I was ready for the next challenge," Daniels said on Friday. "I've started 40 games at the varsity level in the toughest league in the country and I didn't think I needed another year of high school football. My best friends are in the 2018 class, those are the guys I grew up playing with and I wanted to graduate with them and start the next chapter of my life. It wasn't an easy decision but I think I'm ready for it."
The Mater Dei standout has been committed to the Trojans since July and ranks as the No. 2 pro-style quarterback, No. 2 player from the state of California and No. 21 overall prospect for the 2018 national recruiting cycle, according to the 247Sports Composite rankings.
USC signed eight commitments during Wednesday's early signing period and currently has four hard commitments for its 2018 class, which ranks No. 14 overall nationally and third among Pac-12 teams, according to the 247Sports Team Composite rankings.