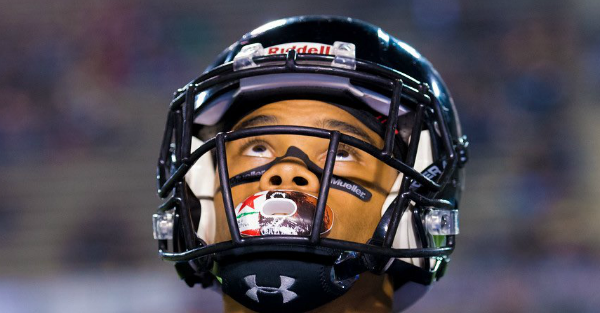 @kalotasi/Twitter
@kalotasi/Twitter
Julius Irvin, a four-star defensive back prospect and son of two-time Pro Bowler LeRoy Irvin, has committed to the Washington Huskies. National Signing Day is next week, so he will sign then, but he told 247 Sports that he's going to play for the Huskies.
"What made U-Dub the pick for me was the family environment," Irvin told 247Sports. "It's a place that I'll be happy at, above everything else. I fit in very well there.

"Coach Jimmy Lake is more than just a coach to me. He's been giving me advice about more than just football. He broke down my game to me even before I showed interest. He's always been in my corner, regardless of what school I picked. That was huge for me. I know he had my back no matter where I ended up."
He also made the announcement via his Twitter:
Michigan, Notre Dame, Utah and Alabama were all in the mix, with the Crimson Tide making a late push, but none were able to capture the heart and mind of Irvin. USC, Washington and Alabama were considered his top three choices before he committed.
"Coach Lake develops defensive backs very well," Irvin said. "They believe I'm versatile in the secondary and can fit in anywhere. He likes me at corner and he was the one that initially brought up that idea to me. He was the first one to see that before I even told him what position I wanted to play, so that was huge.

"With a lot of other schools, I felt like I was considering them for other people and not myself. It's tough to turn down a prestigious university like Notre Dame, a dynasty like Alabama and a program like USC, where I'm comfortable being a Southern California kid. But I knew Washington was where I fit in best and I'm really excited to be a Husky."
Pretty cool that the kid recognized he had to make the decision he wanted. Not the one people around him did.
According to 247Sports, he's the the No. 12-rated safety in the 2018 recruiting class as well as the No. 23 recruit in the state of California.