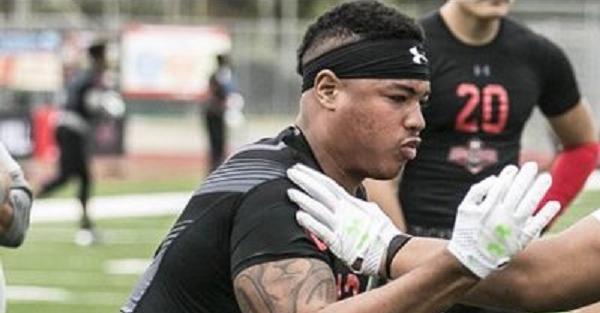 @ke_yon8/Twitter
@ke_yon8/Twitter
Four-star defensive tackle Keyon Ware-Hudson is about to hit the summer as a highly coveted defensive tackle recruit in the 2019 class. He's got 14 offers from schools already and will surely get more as he attends camps and shows what he can do in the coming months. However, there's one school working on him the hardest right now as he told 247Sports.
"I want to get back to Oregon and visit for the Spring Game as well. They're probably recruiting me the hardest right now. I'm hearing from the whole staff and have a good relationship with those coaches."
He also mentioned that he got an offer Florida and wants to see the Gators soon and that he was at USC a few weeks ago and likes the relationship he has with the coaches. However, it looks like both schools have some catching up to do with the Ducks.
The 6-foot-3, 295-pound defensive tackle out of Santa Ana, Calif. is ranked as the No. 14 recruit at his position and the No. 27 recruit in the state according to the 247Sports Composite rankings. He also has offers from UCLA, Arizona, Michigan, Nebraska, Tennessee and Washington among others.
Here are some of his highlights: