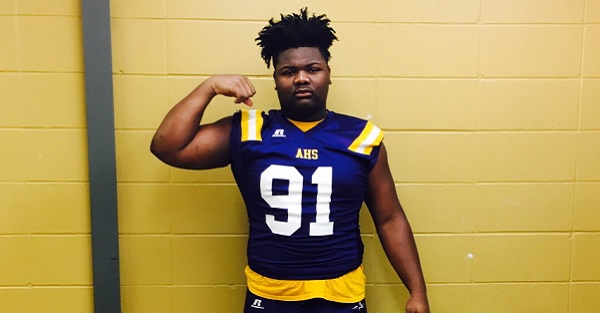 Ishmael Sopsher/Twitter
One of the top recruits in college football has apparently received what he is calling a "dream offer".
On Monday night, five-star defensive tackle Ishmael Sopsher (6-foot-5, 279 pounds, Amite, La.) says he had received a "dream" scholarship offer from Oregon.
Sopsher is a class of 2019 recruit, but he already has heavy interest from most of the college football powerhouses. According to 247Sports, Oregon was the 21st school to offer Sospher, joining schools such as Alabama, Florida State, Clemson, and Michigan.
Sopsher had previously released a Top 12 that did not include the Ducks, but with an offer in place now… that could change.
Obviously "dream school" doesn't equal a commitment, but it is another good sign for Willie Taggart and his first year with the Ducks. Oregon trailed off in recruiting under Mark Helfrich, but Taggart currently has the Ducks ranked fifth in recruiting for the 2018 class (via 247), and is apparently making a great impression already on the 2019 class.
Sopsher is ranked as the No. 1 defensive tackle and No. 2 overall recruit of the 2019 class by the 247Sports Composite.
[H/T The Spun]