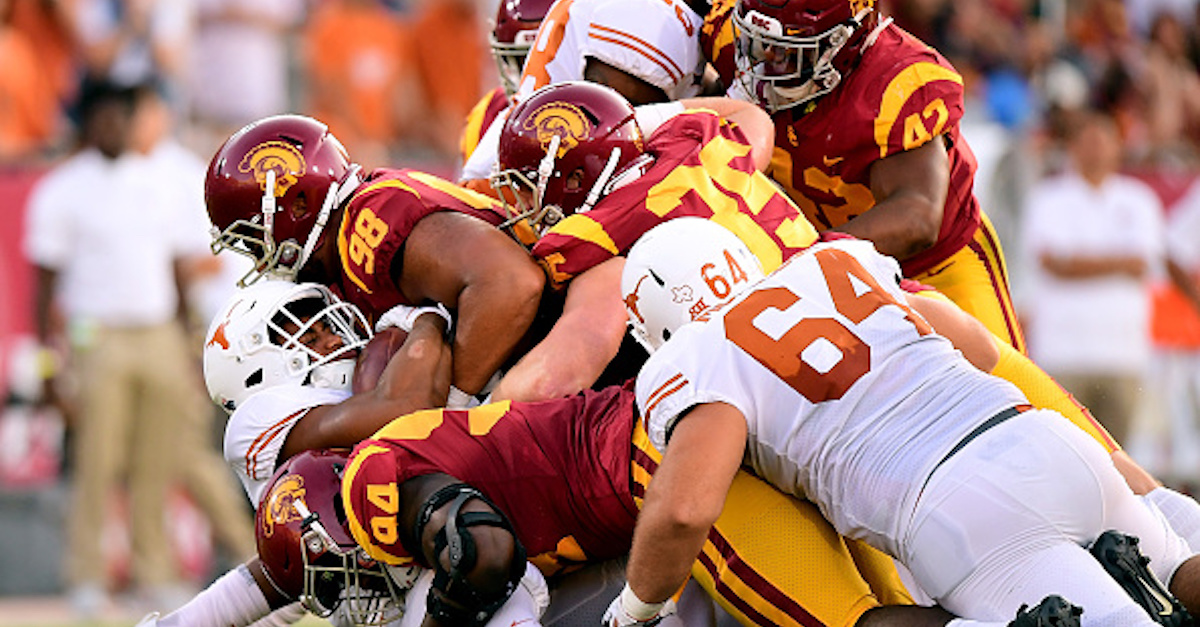 Harry How/Getty Images
LOS ANGELES, CA - SEPTEMBER 16: Kyle Porter #21 of the Texas Longhorns is hits by Josh Fatu #98 of the USC Trojans during the first quarter at Los Angeles Memorial Coliseum on September 16, 2017 in Los Angeles, California. (Photo by Harry How/Getty Images)
Heading into an all-important game against the No. 13 Notre Dame Fighting Irish, the No. 11 USC Trojans have received a bit of bad news involving starting defensive tackle Josh Fatu.
Fatu, according to reports, was in a multi-car accident earlier this week, an accident bad enough where at the time of the initial reports, it was thought that the 6-foot-2, 315-pound big man had suffered a concussion.
He was put on concussion protocol and listed as day-to-day, according to 247Sports. Chris Trevino is reporting that USC head coach Clay Helton told the media that Fatu was not the cause of the incident, and though he's still not officially ruled out of the game — this isn't good news for the Trojans. Day-to-day can easily become a game-time decision, and not all game-time decision end up with the player on the field. In fact, many don't.
Here's Trevino with more analysis:
"Fatu, a starter opposite of Rasheem Green, has been one of USC's most effective defensive lineman with 27 tackles, seven TFL (second on the team and five (sacks) this season. His TFL and sack numbers are both career highs for the former Long Beach City College transfer."
In the big picture, Fatu's long-term health is obviously most important, so if he needs to sit out a game to get back to 100-percent for the Trojans, so be it. That's a move the coaching staff would gladly make, especially with Fatu's safety in mind.
In light of the Notre Dame matchup, though, if Fatu can't go it would be a huge loss for the Trojans — especially on the road. The Fighting Irish are rushing for an extremely impressive 308 yards per game, so having a big body like Fatu out could end up tilting the contest out of USC's favor.
The game between the 6-1 Trojans and 5-1 Fighting Irish will be played in prime-time at Notre Dame Stadium.