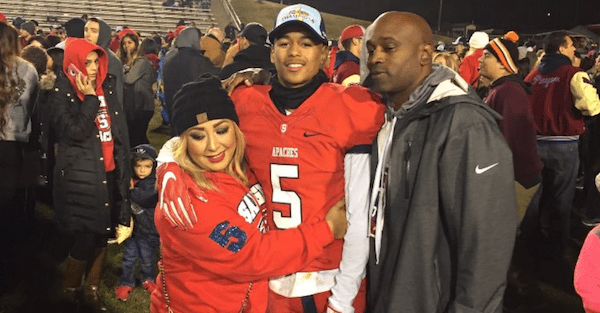 Jalen Cropper/Twitter
Jalen Cropper/Twitter
Four-star athlete Jalen Cropper has made it clear who the favorite is to sign him.
Cropper told Rivals that USC is his "dream school."
"This is my dream school," Cropper said. "That?s been my dad?s favorite school and I grew up watching them and Reggie Bush has always been my favorite player."
Utah is currently the favorite to land Cropper, according to the 247Sports Crystal Ball. But if the Sanger, California prospect lands an offer to USC, it could be a game-changer.
"A lot of schools are coming together now," Cropper said. "A lot of schools are coming to the school talking to me, offering me and this whole recruiting process is starting to come together now."
As of now, Cropper has offers from Arizona, Fresno State, Utah, UCLA, Nevada, Oregon and Oregon State.
Cropper said he wants to play receiver in college, but he'd be willing to play on either side of the ball.
The 6'0, 155-pound prospect is likely waiting for the offer from USC, but he has plenty of offers to mull over at the moment.