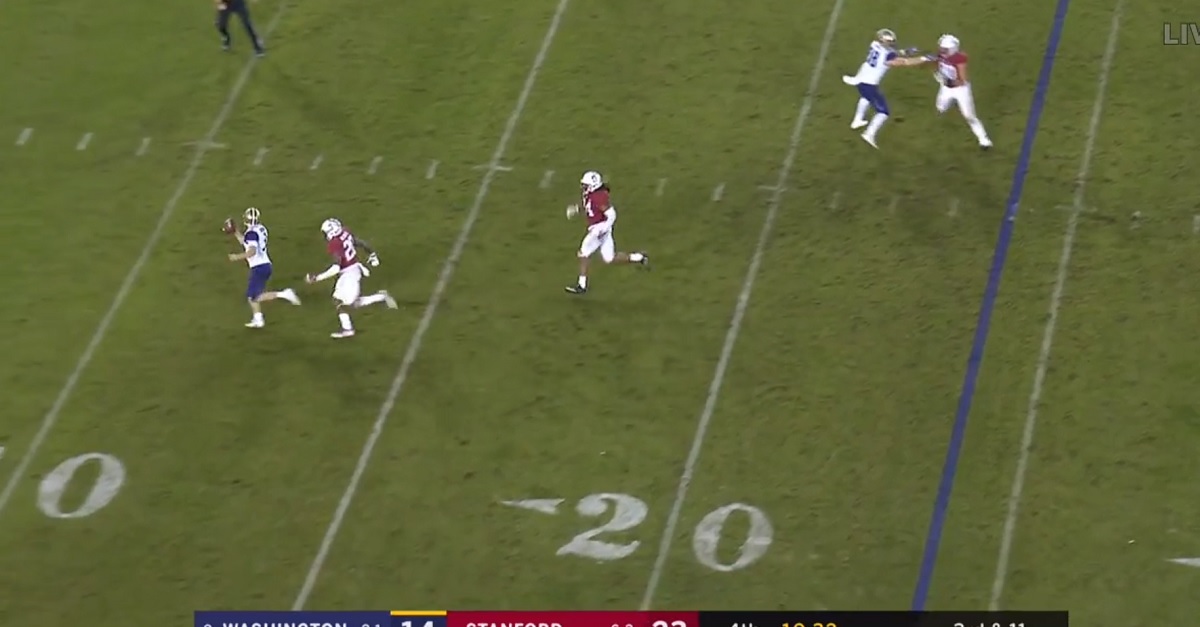 Clippit/Screenshot
Obviously no quarterback wants to take a big hit, but it some cases, it might be the better option.
It probably would have been the better option here.
In the fourth quarter of their 30-22 loss to Stanford on Friday, No. 9 Washington quarterback Jake Browning faced a critical 3rd-and-11 from his own 24-yard line. Like they did several times during the night, Stanford got pressure on Browning, and in a move that might come back to haunt him, Browning did his best to elude the pass rush.
Forward progress helped a little bit here, but otherwise Browning was still sacked in the shadow of his own goal line after starting at the 24-yard line. The play was officially an 18-yard loss, and that proved to be important on the very next play; Washington punted the next play, and Stanford was able to return to the punt back to Washington's 29-yard line. A penalty further allowed Stanford to the 14-yard line, and running back Bryce Love scored two plays later.
Obviously it's easy to play armchair quarterback here and say "Well, he shouldn't have done that…", but this wasn't the only instance where happy feet might have cost Washington. Browning did something similar on Washington's last possession on offense, scrambling in a fourth-down situation where he probably should have tossed the ball up.
Considering that Browning has been one of the best quarterbacks in college football over the past three seasons, this isn't something that you expect from him.
With the loss, Washington fell to 8-2 on the season.