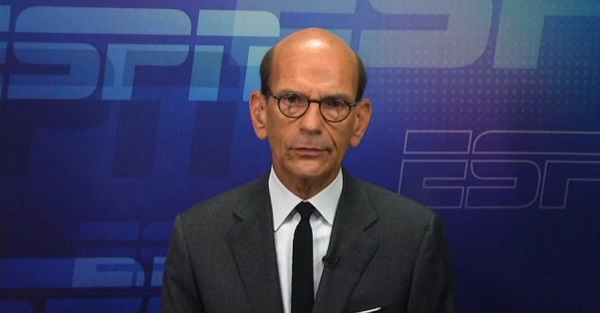 Clippit/Screenshot
@MarcWhiteman/Twitter
Paul Finebaum had some bad news for fans of interim LSU coach Ed Orgeron.
Orgeron had been gaining steam in recent weeks about taking over the head LSU job full-time, and the Alabama game was seen as a big potential feather in his cap. However, the Tigers lost 10-0 to the No. 1 ranked Tide on Saturday, and Finebaum went on Sportscenter on Sunday to say that Orgeron had completely failed in that game.
Via SEC Country:
"I thought it was devastating," Finebaum said of the result. "You talk about a four-hour job interview in front of 100,000 (people) and who knows how many million on national television. And quite frankly, I think he failed. The stage seemed too big for him.
RELATED:LSU coaching search "moves on" after report hints at failed audition
"The stage seemed too big for him"? Ouch.
Finebaum went on to say that Orgeron likely had no chance at retaining the job, as the Tigers are still targeting Houston's Tom Herman and Florida State's Jimbo Fisher for the job.
LSU still has Arkansas, Florida, and Texas A&M remaining on their schedule, so they can still finish the season on a very high note. However, Alabama was the "big game" test that Orgeron really needed to pass, and based on what Finebaum said, it looks like the interim coach just didn't do enough to impress.