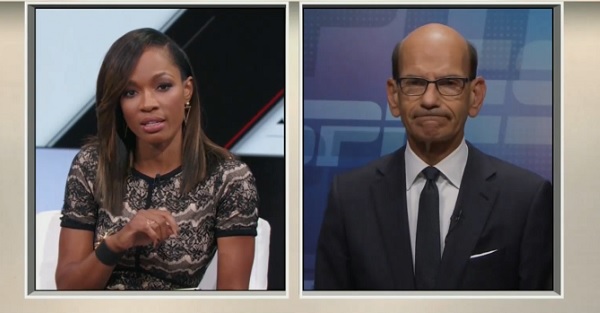 ESPN/Screenshot
A couple of days after a controversial rant, ESPN's head SEC personality Paul Finebaum has apologized for comments directed at the Colin Kaepernick situation.
"I?ve gone back to review what I said there, I went back to review what I said in an exchange with Joey Galloway on College Football Live, and I could spend the rest of my life trying to talk my way out of it, but I can?t," said Finebaum on ESPN's Sportscenter. "I blew it.?
The apology comes after Finebaum made some comments on Kaepernick and his protesting of standing during the national anthem.
?This country has issues, but this country is not oppressing black people.?
Finebaum later expounded on that comment on College Football Live.
?I think it?s totally disrespectful to sit, and others have said it and will continue to say it, for the men and women that have given their lives for this country. Having said that, I think Colin has every right to do whatever he wants, and that?s what makes America the country that it is.?
RELATED: Here?s why Colin Kaepernick decided to kneel, not sit, during the national anthem

Finebaum quickly came under harsh criticism for what he had said, with many claiming that Finebaum simply did not know enough about the situation to make comments like that.
For now, it looks like Finebaum hopes to get the situation behind him as college football's opening week commences.
[H/T For the Win!]