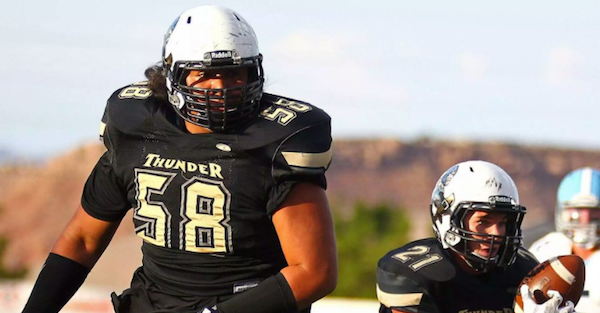 @peneisewell58/Twitter
@peneisewell58/Twitter
The No. 7 offensive tackle in the class of 2018, Penei Sewell, has narrowed his recruitment to two schools, and they couldn't be more different: Alabama and Nevada.
The Saint George, UT. native revealed to Rivals that not only was he serious about committing to Alabama, but that he was also very serious about going with the Nevada Wolf Pack.
Via Rivals:
"Asked about top teams on his list other than the Crimson Tide, Sewell said: "Right now, I'd say just Nevada really."
It's obviously a huge surprise that one of the top recruits in the class is considering Nevada along with Alabama, but Sewell does have two brothers that play at Nevada right now, which is obviously a factor in his recruitment.
https://www.youtube.com/watch?v=nBg5ZWcMAfM
To counter Nevada's edge, Alabama offered Sewell's younger brother, a class of 2020 recruit, too, to increase their odds of landing Sewell.
No matter what Sewell decides to do, it's certainly fascinating, and, really, cool to see family play such a pivotal role in his recruitment and wanting to remain close with his brothers.
Sewell is the No. 59 player overall in the class of 2018.