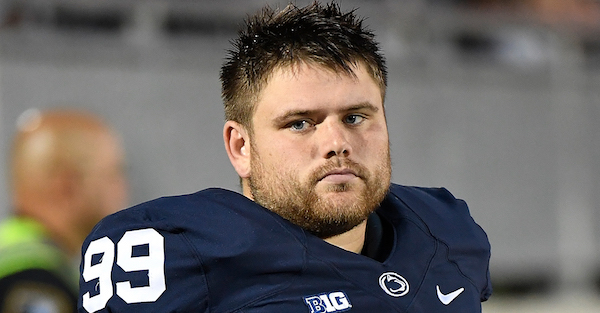 Justin Berl/Getty Images
STATE COLLEGE, PA - OCTOBER 01: Joey Julius #99 of the Penn State Nittany Lions looks on from the sidelines in the second half during the game against the Minnesota Golden Gophers at Beaver Stadium on October 1, 2016 in State College, Pennsylvania. (Photo by Justin Berl/Getty Images)
Joey Julius has become something of a cult hero in the college football world in recent years, as the Penn State kicker is beloved for his physicality and style on the field. However, Julius announced in Octoberc that he has battled an eating disorder revolving around binging and, on Friday, he opened up to the world concerning his need for treatment.
Here is what Julius shared on his Facebook page:
Hello friends and family. I just wanted to let everyone know since I have been asked a bunch why I was not at blue white or why I am not at school. I have been struggling over the last couple months with my eating disorder. It got to the point where I had to return to St. Louis to seek further treatment at the McCallum place. Recovery is a wonderful and beautiful thing that I am working on returning too. For anyone out there that has similar struggles I hope you too can seek help in some way. Your feelings should be completely validated and I wish you all the best in your search for recovery. Just as an update I am doing well and the treatment is helping. There is light at the end of the tunnel. It is just a very long tunnel. For my friends and family I would love to hear how you are doing and I am ready to talk to you guys. I love getting letters and have found some peace in writing them as well. If you want to send me a letter my address is 231 Lockwood Ave 63119 Webster Groves MO. Just to reiterate recovery is possible. I would also like to announce that I will be starting a blog here shortly and will upload the link soon. I wish you all a happy cinco de mayo especially to my baby sisters 20th birthday
Julius has been a special teams staple for James Franklin and company for the past two seasons. With that said, his health is what is important and the Penn State family certainly would want to surround him with support at this critical juncture.