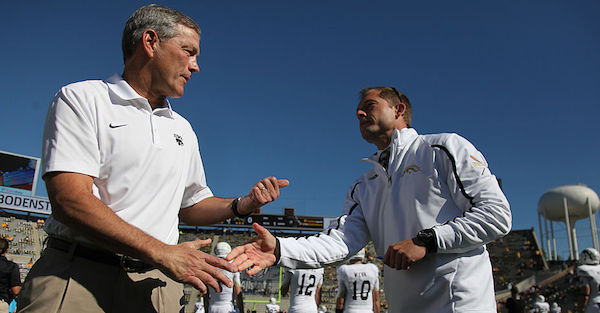 Matthew Holst/Getty Images
IOWA CITY, IOWA- SEPTEMBER 21: Head coach Kirk Ferentz of the Iowa Hawkeyes visits with head coach P.J. Fleck of the Western Michigan Broncos before their match-up on September 21, 2013 at Kinnick Stadium in Iowa City, Iowa. (Photo by Matthew Holst/Getty Images)
Minnesota Golden Golphers head coach PJ Fleck is already making headlines at his new school, and he hasn't even coached a game yet. The former Western Michigan Man tweeted out highlights from his ELITE camps Thursday, and, because it included prospective student athletes in the video highlight package it prompted several schools to report Fleck and the university for breaking an NCAA Violation.
The problem? It wasn't a violation, as the NCAA rules clearly state that Fleck and other universities can advertise their camps, even if it includes prospective student athletes.
Still, Fleck's above tweet still caught the eye of several schools to report a violation that doesn't exist in the NCAA bylaws.
Fleck, who went 13-1 in his last year with the Broncos, is one of the most-interesting, young head coaches in college football. He's already making strides in recruiting for the Golden Gophers, and, with camps and videos like these, one should expect that to continue.