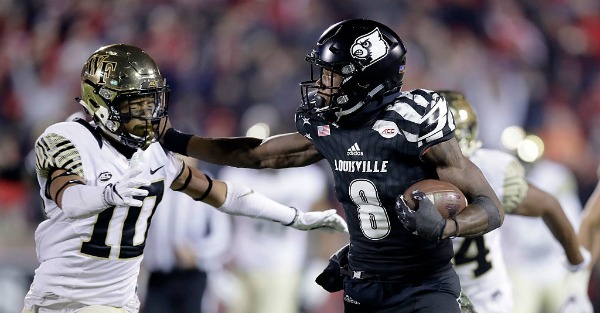 Andy Lyons/Getty Images
of the Louisville Cardinals during the game against the Wake Forest Deamon Deacons at Papa John's Cardinal Stadium on November 12, 2016 in Louisville, Kentucky.
Fifth-ranked Louisville is right back in the hunt for the College Football playoff after their 44-12 dismantling of Wake Forest last Saturday.
But the Cardinals complete domination of a Demon Deacons side they held to just 214 total yards is in question after it was discovered that Wake Forest's gameplan may have somehow ended up in Louisville's hands prior to the game.
?We are concerned that there was some type of security breach,?? head coach Dave Clawson told the Winston-Salem Journal Tuesday. ?I have shared it with (Wake Forest Athletic Director) Ron Wellman, and we?re doing everything we can to make sure all of our information and data is more secure moving forward."
RELATED: College Football Playoff contender dealt devastating injury news
Wellman said Clawson informed him of the potential breach Friday, the day before the game at Papa John's Cardinal Stadium, after a member of the Demon Deacons' traveling party found some documents belonging to the team at the stadium. Wellman refused to expand on what those documents may have been.
?Since that time we have been looking at various possibilities and haven?t come up with anything for certain at this point,?? Wellman said Tuesday night. ?But we will continue to review everything that we do and investigate how this might have happened and make sure it doesn?t happen in the future."
Louisville head coach Bobby Petrino denied any knowledge of the matter Wednesday, stating in an email that his "coaching philosophy has always been to play the game with sportsmanship."
Meanwhile the Cardinals sit just outside of the 4th playoff spot in fifth with just two games remaining.