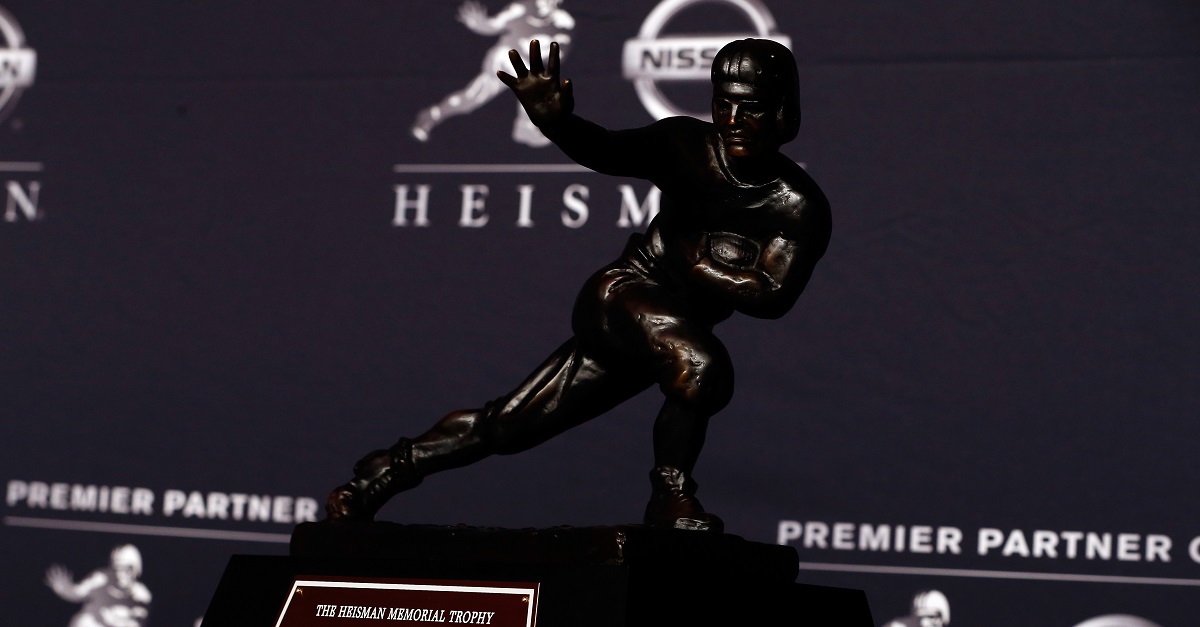 Jeff Zelevansky/Getty Images
NEW YORK, NY - DECEMBER 14: A view of the Heisman Trophy prior to the 2013 Heisman Trophy Presentation at the Marriott Marquis on December 14, 2013 in New York City. (Photo by Jeff Zelevansky/Getty Images)
The Heisman odds list has been in flux since Week 1 with some surprising drops and rises from some unexpected players. Chad Kelly has fallen all the way to 50-1 odds while Alabama freshman quarterback Jalen Hurts rose from off the board to 25-1 odds. Houston's Greg Ward Jr. fell from 10-1 odds to 25-1 because Houston decided to rest him against Lamar due to shoulder soreness.
RELATED: This stat shows why Dalvin Cook should be a Heisman favorite
However, there's one big surprise of a player who shot up from off the board to take over tied for third in the Heisman odds according to Bovada.
RELATED: Leonard Fournette falls as FOX Sports names new No. 1 Heisman candidate after Week 1
If you can't quite see it, Florida State redshirt freshman quarterback Deondre Francois is up there at 6-1 odds with the likes of Lamar Jackson and J.T. Barrett. Francois has only played one FBS school in Ole Miss, but did look good against the Rebels. He's totaled 681 pass yards with five touchdowns and one interception while completing 69 percent of his passes. He's also run 15 times for 58 yards in the two games against Ole Miss and Charleston Southern.
He certainly hasn't played better than Lamar Jackson, but you could argue he's played better than Deshaun Watson in two games so far this season. So really, he, Jackson and Barrett should be No. 2 on this list with Watson behind them. Either way, it's quite a surprise for a guy who wasn't going to play very much this season to become the starter and a potential Heisman candidate.