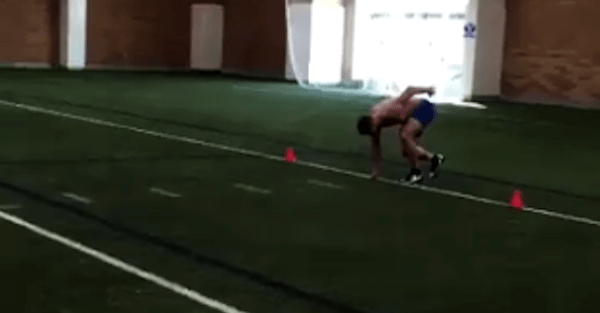 Twitter/@JClousePT
When Taysom Hill was healthy and playing at maximum capacity during his time at BYU, he was a phenomenal college football player. Now, the oft-injured quarterback is trying to make his mark on NFL scouts to the point that he can latch on at the next level and he made a big stride toward that goal this week in showing off outstanding measurables.
For a bit of visual representation, Hill was captured running a blazing 4.40 time in the 40-yard dash at BYU's Pro Day.
Beyond the "wow" factor of that kind of speed from a quarterback, Hill was also impressive with a 38.5-inch vertical jump and his explosiveness generated a very interesting question.
Could Hill actually function as a non-quarterback at the NFL level? Given his past injury history, it would be easy to overlook the fact that the 6'2, 230-pound quarterback is actually a breathtaking athlete but, along those same lines, the fact that Hill was often banged up at quarterback would produce durability questions.
It would be difficult to root against Taysom Hill if you ever watched him play college football at BYU and it would be a great story if he could land in the NFL. Whether he'll be playing quarterback or somewhere else on the field remains to be seen.