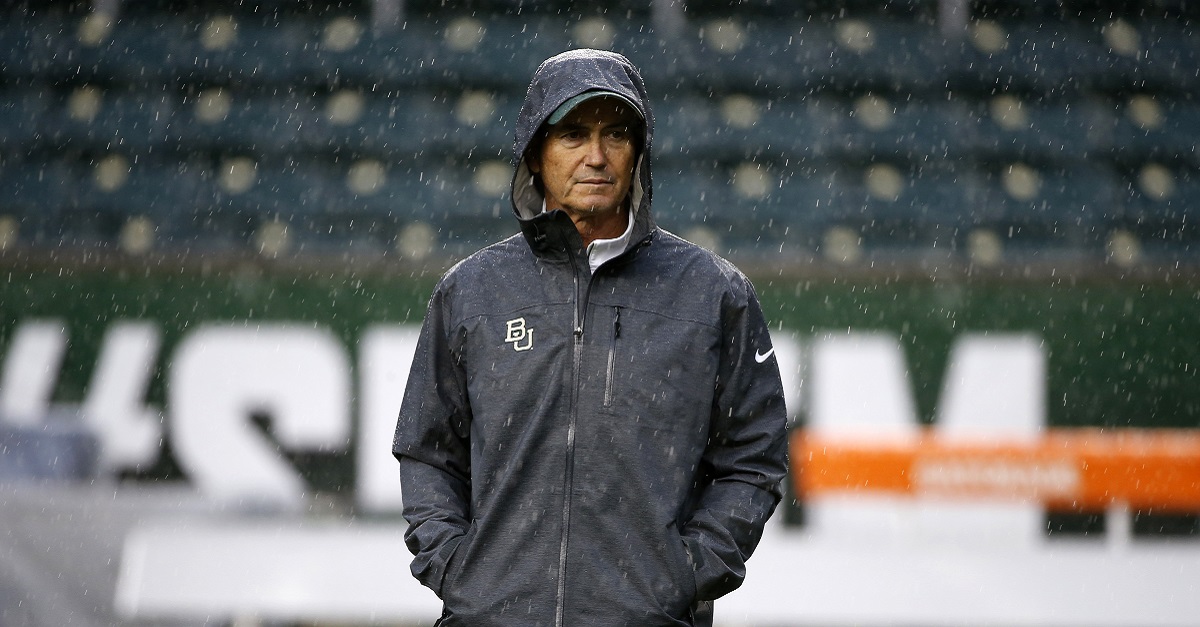 Ron Jenkins/Getty Images
WACO, TX - OCTOBER 24: Baylor Bears head coach Art Briles watches his team before the Iowa State Cyclones take on the Baylor Bears at McLane Stadium on October 24, 2015 in Waco, Texas. (Photo by Ron Jenkins/Getty Images)
Billionaire Texas booster Red McCombs is pushing to get former Baylor football head coach Art Briles a job for the same position at the University of the Incarnate Word, according to the San Antonio Express-News.
McCombs told the newspaper that he reached out to the school's board of trustees in an attempt to have the school hire Briles as its next head coach. He believes Briles is the right candidate for the job after the program went 1-10 this season.
"You not only will be getting the best football coach available but also the best man," McCombs said he told UIW trustees. "In two years' time, he would leave them with an unbelievable program in place and then could go to the big time, because that's where he should be in the first place."
Of course, Briles was fired by Baylor in 2016 after several sexual assault accusations were brought against the school during his tenure as head coach. An investigation concluded that Briles and his staff mishandled those sexual assault accusations against his players. Despite those claims, McCombs still believes Briles should be considered for the position.
"The man that I know wouldn't even come close to being the kind of guy those people (painted him out to be)," McCombs said. "I don't think (Baylor) handled the job right, but that's their business, not mine. But what happens to little Incarnate Word is my business. I want them to do well, but I am afraid they are fighting an uphill battle, and this could be their big breakthrough."
A source told the newspaper that the university is not considering Briles for the position. McCombs is a big-time booster at Texas and has donated to the University of the Incarnate Word in the past as well, but it doesn't appear that the school will take his advice on this issue.