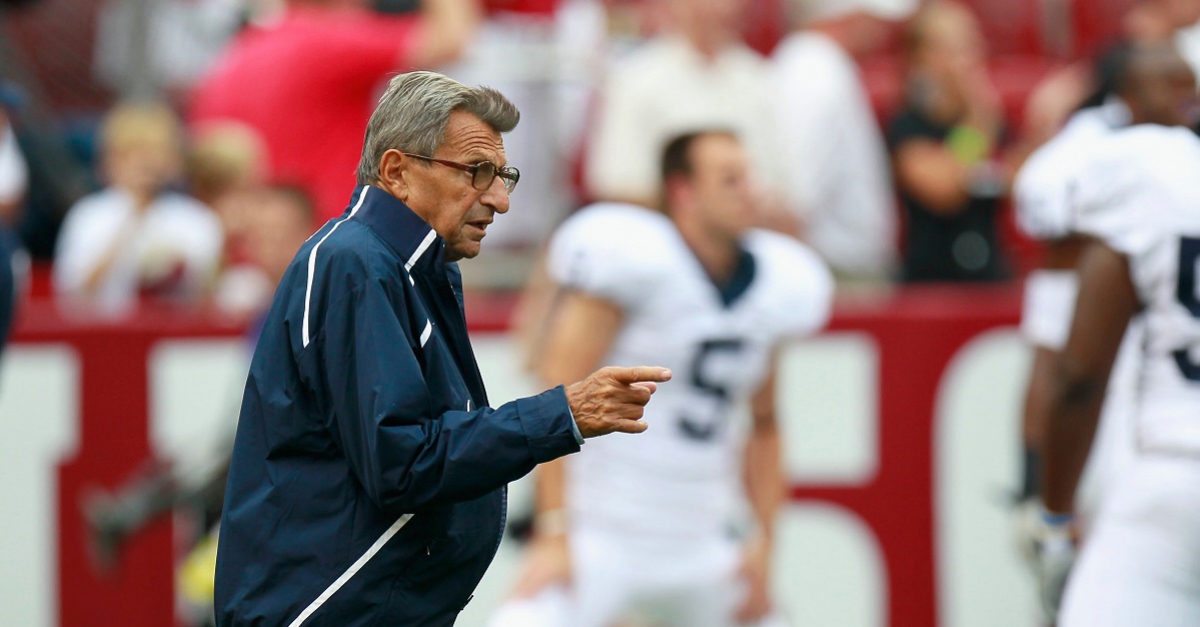 TUSCALOOSA, AL - SEPTEMBER 11: Head coach Joe Paterno of the Penn State Nittany Lions during warmups before facing the Alabama Crimson Tide at Bryant-Denny Stadium on September 11, 2010 in Tuscaloosa, Alabama. (Photo by Kevin C. Cox/Getty Images)
If this report is true, the Penn State sex abuse scandal may go further than most people originally thought.
It was reported earlier this week that former Penn State coach Jerry Sandusky may have been abusing children as far back as 1971, and that former head coach Joe Paterno knew about the allegations and may have helped cover them up in at least one instance. If that wasn't bad enough, NBC is now reporting that as many as six former Penn State coaches may have known about Sandusky's actions.
As many as six assistant coaches at Penn State witnessed "inappropriate behavior" between Jerry Sandusky and boys, stretching as far back as the 1970s, NBC News has learned.

It is unclear if any of the men reported what they saw to higher-ups at Penn State before the sex-abuse scandal erupted in 2011.
Sandusky was arrested about the abuse claims in 2011, later being convicted of the crimes. Paterno was fired amid the scandal, and he passed just two months later due to complications from lung cancer. Paterno's death has done a lot to complicate the entire ordeal, as his testimony would have been invaluable to both the court and the public.
Penn State later released a statement on the new set of allegations against the university.
We note these are allegations, and not established fact. The university has no records from the time to help evaluate the claims. More importantly, Coach Paterno is not here to defend himself. Penn State does not intend to comment further, out of concern for privacy, and due to the strict confidentiality commitments that govern our various settlement agreements.
If as many as six coaches actually did know about the abuse, then Penn State may be in more trouble than they have already had to deal with. The school has already paid out settlements to 26 alleged victims, but the amount of people that actually knew about the abuse when it was happening has always been a question mark.
If this report is true, then it looks like the abuse was, not only going on for longer than we previously knew, but it was being ignored for that entire time, as well.
We will have more on this story as more information is made available.