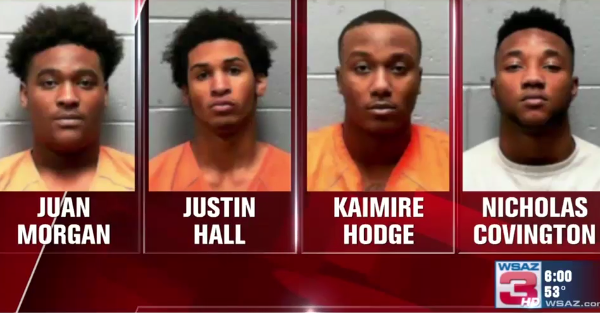 Screen Shot via WBAZ TV
Two athletes at the University of Charleston are among four men who face felony charges after being arrested late Saturday night in connection with a scheme to deliver heroin, according to a report by WSAZ-TV.
The TV station, quoting the criminal complaint in the case, said authorities went to a local motel to investigate suspicious activity when they saw the suspects with a number of illicit items, including a handgun, heroin, and cash.
WSAZ identified the suspects, and the charges they face, as:
Kaimire Hodge, 20, being held on $100,000 bond after being charged with felony receiving or transferring stolen goods and possession with intent to deliver heroin
Juan Morgan, 19; Justin Hall, 18; and Nicholas Covington, 19, are all being held on $75,000 bond after being charged with possession with intent to deliver heroin. Covington and Morgan are members of the Charleston football team, the university confirmed.
The University of Charleston's Communications Director, David Traube, released a statement to WSAZ:
"We are aware of the situation and are cooperating with authorities as they determine the specific details. The event occurred off campus and, at that time, only two of the individuals in question, Nic Covington and Juan Morgan, were active members of the UC football team. The two have since been dismissed. We will wait for the results of the investigation before providing any additional information."
All four are currently in the South Central Regional Jail.